Onward and upward': Alliance of the ADA president shares family's pandemic journey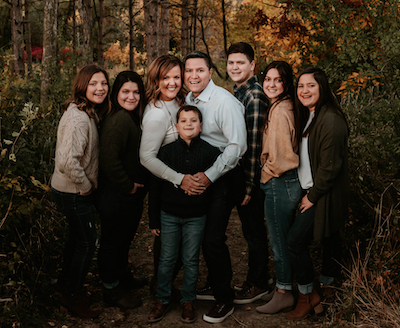 With the COVID-19 pandemic bringing unprecedented challenges for health care workers, Alliance of the American Dental Association President Susanne Espinosa and her husband, Ernesto Espinosa, D.D.S., have focused on getting through this health crisis as a family.
"The pandemic has had a wide range of impacts on our family, our practice, my husband, our community, etc.," said Ms. Espinosa, who co-owns Tooth or Gum Family Dentistry and Orthodontics with her husband in Hartford, Wisconsin. "Our family is a pretty tight-knit unit, but that closeness was enhanced during the increased time we spent together. Our children experienced firsthand the essential nature of their dad's job as he waded into the unknown each day to provide essential oral health care in our community."
The early days of the pandemic were difficult, as the practice limited services and the Espinosas went through much of their personal savings to keep their staff employed. They also received funding from the Paycheck Protection Program and Economic Injury Disaster Loan program, which were essential in keeping their team intact and business afloat through April and May 2020, Ms. Espinosa said.
"It was incredibly stressful as business owners. We have single moms and primary financial providers on our little team, and we did everything we possibly could to avoid having to cut their pay or furlough them," she said. "It financially impacted us as we drained our savings trying to keep every team member afloat, but we feel so very blessed to have been able to weather it with the support of the Wisconsin Dental Association and the ADA advocating for our offices and dentists in a big way."
Running the practice has been a family affair over the years, with the couple's six children all working there in some capacity. Their older children have attended Occupational Safety and Health Administration trainings and are familiar with infection control measures, so they took enhanced pandemic-related practices in stride. But for their younger children, who would help to clean the office after hours, the Espinosas changed their responsibilities to outside of the office until they had more of an idea of what COVID-19's impact was on children and how it spread, Ms. Espinosa said.
The couple has closely monitored family and staff for any COVID-19 symptoms and installed a washer and dryer in the basement of their practice so that staff could wash their work clothes there, in addition to implementing enhanced infection control guidelines as recommended by OSHA, the Centers for Disease Control and Prevention and the ADA.
The family also experienced firsthand the mental impact of the pandemic.
"This pandemic has taken a steep toll on the mental and emotional health of our nation in a way that I don't think will be fully realized for many years to come. I have had to work hard to help my husband stay positive, especially in the beginning when there was so much unknown and we had a close family member and a couple of dentists we know die by suicide," Ms. Espinosa said. "We share the burden of owning our practice together, and I cannot imagine how difficult or impossible this would have been if he had been left alone to bear it. We prioritized exercise and healthy eating to help him maintain his physical health. Our family turned to our faith for mental and emotional wellness, and it carried us through."
The parents have been open and honest in their discussions with their children about the signs, symptoms and treatment options for mental health issues, as their older children who work in the practice have been on the frontlines witnessing patients coming in with severely deteriorated mental, oral and systemic health, she said.
The family has aimed to help others during this difficult time, including by providing free lunches to children who had relied on school programs and were temporarily left without those supports when schools initially closed in March 2020.
"Our family started last March by trying to look outward," Ms. Espinosa said. "We knew that things were different and difficult for us, but we tried to consistently look for those who needed our help. This gave our family a sense of purpose during a stressful, unsettled time."
Ms. Espinosa's efforts during the pandemic have also extended to her role with the Alliance, which has shared details about ADA lobbying efforts, used its network to ensure trusted information can travel efficiently to dental families, and formed a wellness committee that has presented webinars on topics such as financial well-being during volatile times and effective partnerships between dentists and spouses.
"As a leader of the Alliance during this time, my focus has been to keep our dental families connected," she said. "The well-being of dentists and their families is vital to the success of dentists and their practices, and as spouses, we are the essential other half of that equation. Having a network of like-minded, similarly situated spouses from around the country has been essential to our success during the pandemic."
Moving forward, the Espinosa family is continuing to look for ways to help, including through mission trips planned for this year.
"We always talk to our kids about onward and upward being the only way out," Ms. Espinosa said. "With my husband and me now vaccinated and our children in the lowest risk categories for COVID-19, we are trying to move into the most normal version of life we can to sustain and maintain their mental and emotional well-being, but more importantly, to enable us to continue looking outward for those who need our help instead of isolating and looking inward."
For more information on the Alliance of the ADA, visit allianceada.org.