Mississippi dental student wins 2021 Stanford Award for materials research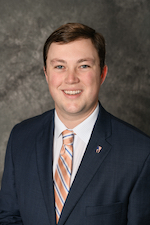 Mr. Key
A University of Mississippi Medical Center School of Dentistry student has won the American Dental Association's 2021 John W. Stanford New Investigator Award for his research paper examining the fracture behavior of different types of ceramic materials used in dentistry.
Using a standard surface-crack-in-flexure technique to fracture the samples, William "Bo" Key analyzed their fracture toughness and fractal dimension properties and compared them to previously reported values for those materials in his paper titled "Fracture Toughness and Fractal Analysis of Ceramic Benchmark Materials."
"My goal was to validate a new examination technique to look at broken ceramic samples and be able to find the properties of the samples at failure," Mr. Key said. "In my research, I found that the newly automated technique closely matched the standard reference literature available for these ceramic materials. I was hopeful to find these confirming results, but I also was very surprised by how unpredictable some of the more brittle ceramic materials behaved when fractured. This new technique can be used to understand what conditions caused a broken dental prosthesis to break."
Mr. Key, who has a bachelor's degree in biological engineering from Mississippi State University, combined his engineering background with his interest in dentistry to conduct his research.
"Not only was it a way to apply my engineering knowledge but also to better my understanding of dental materials and how they behave to help to optimize my fabrication of dental prostheses in my dental career," he said. "This project will help dentists, technicians and dental laboratories understand properties and the limitations of ceramic materials and how to better their use in certain difficult clinical situations."
Mr. Key will graduate from dental school May 28. He conducted his research with his adviser, Jason A. Griggs, Ph.D., professor of biomedical materials science and associate dean for research at the University of Mississippi Medical Center School of Dentistry.
"It is an honor to be receiving the Stanford Award, and it brings a great satisfaction for my five years of dental research on this project," Mr. Key said. "It has given me a new drive to continue my participation in research in the field of dentistry as I start my career."
Mr. Key was selected for the Stanford Award by an awards committee and the ADA Council on Scientific Affairs. He received a $1,000 honorarium and will present his research at the virtual ADA Standards Committee on Dental Products and U.S. Technical Advisory Group for the International Organization for Standardization Technical Committee 106 on Dentistry meeting in July.
The Stanford Award is named for John W. Stanford, Ph.D., who was responsible for the establishment of the ADA's current standards program. The award was designed to encourage dentists and dental students to conduct standards-based research and standards development.
To learn more, visit ADA.org/stanford-award .