New day for ADA.org
Revamped website offers streamlined content, easy access for dentists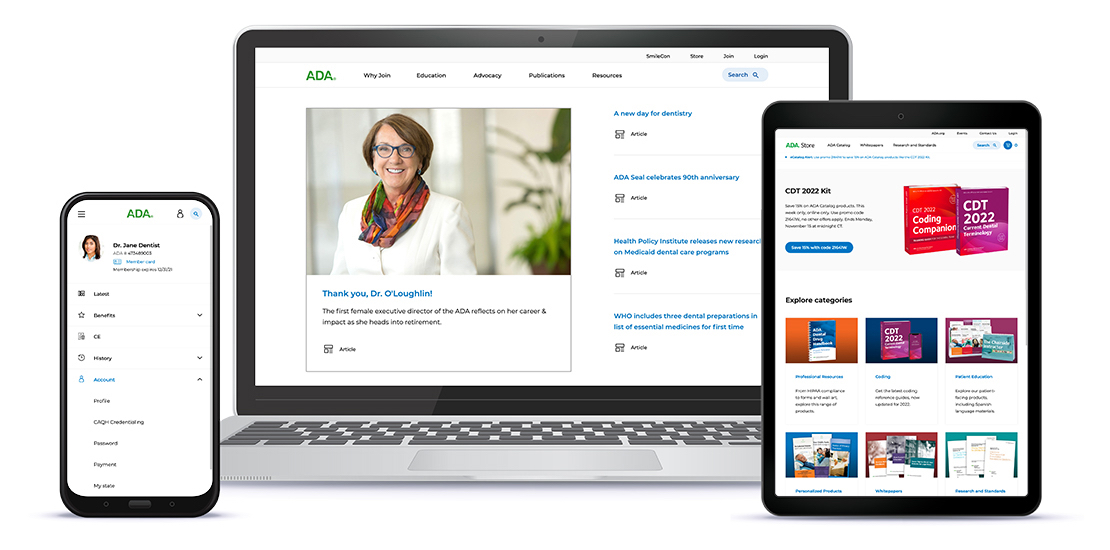 Visited ADA.org lately?
Dentists taking a trip to the American Dental Association's website might notice a few changes. That's because it's a new day for ADA.org, which unveiled its new look on Nov. 9.
The brand-new website is part of a multi-year, multimillion-dollar initiative to modernize the ADA's online presence to meet the needs of member dentists and the dental profession. It also features the Association's most popular content in a streamlined, easy to use design thanks to the input of hundreds of dentists who generously donated their time to help the ADA get the new site just right.
"We are deeply committed to meeting the needs of our members," said ADA President Cesar R. Sabates, D.D.S. "Modernizing our technology to function seamlessly for the needs of today's dentists — who want relevant, evidence-based dental information on-the-go, no matter the device they're using — is part of delivering on this commitment."
Among the new offerings is an expanded Live Chat feature now available anywhere on the site. ADA representatives are available to chat Monday to Friday from 7 a.m. to 6 p.m. Central. There is also an improved search function enhanced with artificial intelligence to deliver more precise results, with the content visitors use most frequently listed first.
"Dentistry has always been rooted in the advancement of science and technology, and we as an organization are no different," said ADA Executive Director Raymond Cohlmia, D.D.S. "The ADA chose to make significant technology investments - which debuts with ADA.org and includes more website and continuing education upgrades throughout 2022 - because we're listening to our members. More than 800 dentists have provided feedback to this endeavor since the process began in 2018."
The new ADA.org is only the beginning. The Association also has plans to revamp MouthHealthy.org and the ADA Member Advantage and Commission on Dental Education websites as well as offer redesigned templates for ADA state and local societies.
Start exploring today and take this video tour to get started.