ADASRI researcher wins award for excellence in evidence-based dentistry
Honor recognizes efforts to make dental guidelines more relevant to patients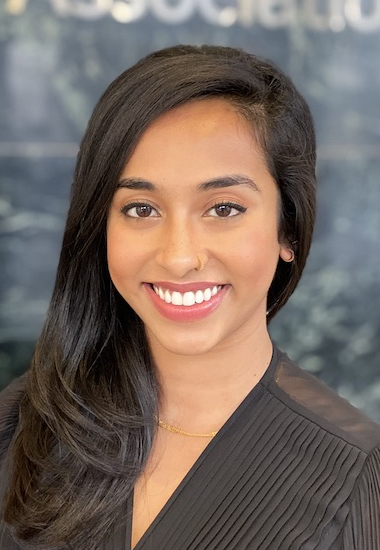 In recognition of her efforts to better integrate the patient experience into dentistry's clinical practice guidelines, a researcher from the ADA Science & Research Institute has won the IADR University of Manchester Evidence-Based Dentistry Award.
Malavika Tampi, manager of the ADASRI Center for Evidence-Based Dentistry , received the award for her research poster titled "Minimal Important Difference for Patient-Reported Outcome Measures in Dental Guidelines" after the general session of the International Association for Dental Research in July.
The award, which is supported by the IADR Evidence-Based Dentistry Network and the University of Manchester, honors excellence in evidence-based dentistry and is given to the IADR general session poster or oral presentation that best promotes the use of evidence to inform clinical practice and teaching.
In patient-reported outcome measures, patients communicate how they feel about subjective measures associated with their disease or condition — for example, their perceived quality of life or symptom severity.
"These measures, however, are often difficult to interpret and determine the extent to which an improvement or deterioration in a patient-reported outcome measure corresponds to a trivial, small, moderate or large effect," said Alonso Carrasco-Labra, D.D.S., Ph.D., senior director of ADASRI Evidence Synthesis & Translation Research and co-author of the IADR poster. "Minimal important difference offers a solution to this problem by providing a threshold or an estimate that represents the smallest change in a patient-reported outcome measure — that is, an improvement or deterioration — that a patient would consider important."
Because guidelines contain evidence-based recommendations on how clinicians should approach particular patient scenarios, guidelines can benefit greatly from the consideration of minimal important difference, Ms. Tampi said.
"Guideline developers and guideline panels can use minimal important difference as a threshold to inform how certain they are about the evidence used to formulate recommendations," she said. "As you can imagine, this facilitates the development of optimally evidence-based and patient-centric guidelines."
While attending the IADR conference, Ms. Tampi also chaired poster sessions of the Evidence-Based Dentistry Network. In addition, she and Dr. Carrasco-Labra participated in the symposium "Conducting Network Meta-analysis to Inform Clinical Practice Guidelines and Policy."