Dr Jessica Meeske wins Smile Tank at SmileCon
Contest sought to find creative ways to help ADA become a more inclusive organization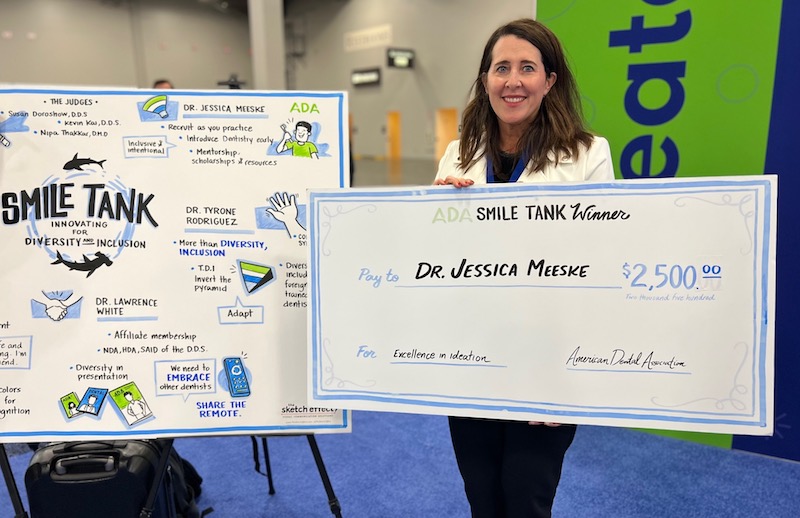 Las Vegas — Jessica Meeske, D.D.S., has been inspiring young children to pursue dentistry for years. In her 23 years of practicing dentistry, she has steered 31 kids to graduate from dental school.
Today, she's hopeful the ADA can use her strategy in recruiting future dentists — but this time focusing on inspiring and supporting those from diverse backgrounds.
"My idea is really basic; it's not that exciting at all," Dr. Meeske said. "But it's something I do every single day in my practice."
However simple it may seem to her, the idea was impressive enough to get Dr. Meeske the win during Tuesday's Smile Tank, a contest organized by the ADA Diversity and Inclusion Committee to find creative ways to help the Association become a more inclusive organization.
Named after the show "Shark Tank," where a panel of potential investors listen to entrepreneurs pitch ideas, the committee selected five entries submitted through Sept. 17 to present their ideas at SmileCon.
In five-minute presentations, the participants were asked to answer one question: How can the ADA create a culture of diversity and inclusion for the dental profession?
For Dr. Meeske, it's all about starting early with children, and then steadily supporting them as they grow up. The Association can play a role in helping dentists take on that challenge, she said.
At her practice, Dr. Meeske said, she often asks toddlers and grade schoolers what they want to be when they grow up; she developed scholarships for high school students; and has been an active mentor to pre-dental college students.
In addition, she said, dentists can provide employment opportunities to high school students, such as answering the phones or as translators and cultural coordinators, taking college students to dental events, conducting mock interviews, and covering the costs of applications and exams.
"I have to be more intentional about recruiting diverse students," she said. "And that's been the reflective process for me."
In the end, Dr. Meeske was chosen by the judges for its proven success and its potential to inspire more young people of color to pursue dentistry.
"For us, it was what implementable and what can be done by new dentists, dentists and the ADA as a whole," said Kevin Kai, D.D.S., New Dentist Committee member, who served as one of three judges. "Dr. Meeske's had that kind of impact that can start a low level and grow over time."
Dr. Kai was joined by Nipa Thakkar, D.M.D., ADA Council on Membership, and Susan Doroshow, D.D.S., 8th District trustee and member of the Diversity and Inclusion Committee, in an American Idol-style judge panel. Jeffrey Kahl, D.D.S., chair of the Council on Membership emceed.
As winner, Dr. Meeske received a $2,500 cash prize.
"Diversity and inclusion are so important because we need a dental workforce that represent what our population look like," Dr. Meeske said." And we know that those dentists who come from diverse backgrounds are more likely to take care of patients who are Black and Brown, and those patients on Medicaid. And there are so many people without access to oral care, this is one of the best ways to be able to change oral health disparities."