ADA continues support for HPV vaccine with participation in educational town hall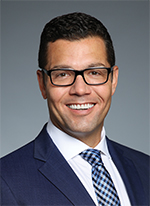 Dr. Araujo
Continuing its support for the human papillomavirus vaccine, the American Dental Association will participate in a virtual town hall hosted by the HPV Cancers Alliance to help educate the public on the PREVENT HPV Cancers Act currently in Congress.
Marcelo Araujo, D.D.S., Ph.D., CEO of the ADA Science & Research Institute, chief science officer of the ADA and member of the HPV Cancers Alliance Medical Advisory Board, will serve as a panelist for the event taking place from 3-4 p.m. Eastern time Oct. 5 on both Facebook and YouTube .
The co-founders of the HPV Cancers Alliance — actress Marcia Cross and cancer activist Lillian Kreppel, both of whom are survivors of HPV-associated cancers — will host the event. In addition to Dr. Araujo, the other panelists include Anna Giuliano, Ph.D., founding director of the Center for Immunization and Infection Research in Cancer at Moffitt Cancer Center; Abraham Aragones, M.D., assistant professor of immigrant health and cancer disparities at Memorial Sloan Kettering Cancer Center; and Judith Smith, Pharm.D., professor in the Department of Obstetrics, Gynecology and Reproductive Sciences at UTHealth McGovern Medical School.
U.S. Reps. Kathy Castor, D-Fla., and Kim Schrier, M.D., D-Wash., introduced HR 1550, the Promoting Resources to Expand Vaccination, Education and New Treatments for HPV Cancers Act, or the PREVENT HPV Cancers Act, to help prevent HPV-related cancers among Americans. The ADA has been on record supporting this legislation.
The Centers for Disease Control and Prevention estimates 70% of oropharyngeal cancers in the U.S. may be linked to HPV . In June 2020, the Federal Drug Administration added prevention of oropharyngeal and other head and neck cancers to the list of indications for the HPV vaccine.
The event panelists will discuss the key issues the PREVENT HPV Cancers Act is intended to address, including barriers to HPV vaccination, infection rates, immunity and recurrent HPV, HPV-associated cancers and the virus's impact on underserved communities in the U.S. The panel will also share how members of the public can get involved in supporting the bill as it moves through Congress.
Viewers will have an opportunity to comment and submit questions via Facebook to the panelists during the live event. Those interested in attending can register on the  HPV Cancers Alliance website .
The ADA adopted a policy in 2018 that urges dentists to support the use and administration of the HPV vaccine, recognizing it as a way to help prevent infection of the types of HPV associated with oropharyngeal cancer. The policy was the result of a proposal that included input from the ADA's Council on Scientific Affairs, Council on Advocacy for Access and Prevention and Council on Dental Practice. An HPV workgroup led by ADA volunteers developed an evidence-based background report to help write the policy.
To learn more about oropharyngeal cancer and the ADA's HPV vaccine policy, visit the Oral Health Topics page on head and neck cancer .