ADA Science & Research Institute CEO named honorary member of American Academy of Periodontology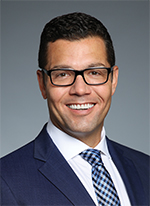 Dr. Araujo
The American Academy of Periodontology has awarded honorary membership to Marcelo Araujo, D.D.S., Ph.D., chief science officer of the American Dental Association and CEO of the ADA Science & Research Institute.
Dr. Araujo was selected by the academy's Board of Trustees based on his outstanding contributions to the art and science of periodontology, according to a letter announcing the award. He was nominated by Mia Geisinger, D.D.S., past chair of the ADA Council on Scientific Affairs.
"I am humbled and honored to receive such a prestigious recognition from the academy," he said. "My deepest level of appreciation to the AAP board for choosing me and to Dr. Mia Geisinger for the nomination. Most importantly, thanks to the late Drs. Seb Ciancio and Bob Genco, two of the world's leading periodontal researchers, for being great mentors in both periodontology and research."
Dr. Araujo will receive his award at a Nov. 4 ceremony during the 2021 Annual Meeting of the American Academy of Periodontology in Miami.