Dr. Christensen discusses giving back, new techniques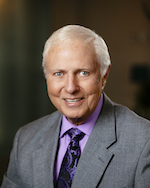 Dr. Christensen
The Dr. Dennis D. Shinbori Acclaimed Educator Series, a new SmileCon offering in 2021, will explore the innovation in dentistry and how dentists' role in giving back. This series is named for Dennis D. Shinbori, D.D.S., a champion of dental education who died in February 2020, and features dental industry trailblazers who have exhibited a lifelong commitment to education and dentistry.
During this course, Dentistry — What Should We Do In 2022? (1121) on Oct. 11 from 3:30-5 p.m. at Mandalay Bay South Convention Center, Lagoon H, participants will learn about the new and useful concepts, materials and techniques that are advancing dentistry this year and beyond. It will also discuss dentistry's role in humanitarian projects and identify projects to get involved in.
The course is worth 1.5 continuing education credits and will be led by Gordon Christensen, D.D.S. Dr. Christensen is the founder and producer of Practical Clinical Courses, a continuing dental education organization for dental professionals.
Learning objectives for the course include identifying humanitarian projects; listing the best emerging concepts for dental practices; and how to integrate those new concepts into a practice.
The fee is included with the Smile Pass and Platinum Smile Pass.