End of advance pricing nears as SmileCon prepares to kick off Oct. 11 in Las Vegas

SmileCon is just around the corner, and there is still time to take advantage of advance registrationrates before they increase Sept. 30.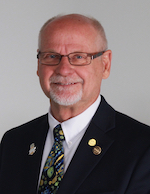 Dr. McKelvey
"SmileCon will be unique in so many different ways. It is dentistry's only meeting that not only educates the ADA member attendee but also highlights the advocacy and policy work that is the foundation of ADA's identity," said Charles McKelvey, D.D.S., 2021 meeting chair. "Our national reach isn't matched by any other organization. This provides the unity and resources we all crave in this ever-changing world of health care. In addition, we will have the capability to provide a real-time opportunity for conversation and interactions that no other state or regional meeting can offer."
The American Dental Association's reimagined annual meeting will take place Oct. 11-13 at Mandalay Bay Resort and Casino in Las Vegas. Advance registration ends 5 p.m. CDT Sept. 30. Standard registration rates will then apply until Oct. 13.
For dentists attending SmileCon with their team members, the meeting will offer continuing education courses relevant for the entire dental team.
Two of these courses are Medical Emergencies: A Team Approach During a Crisis , from 10 a.m.-1 p.m. Oct. 11, which will prepare teams to approach medical events in an organized and comprehensive manner, and Right People in the Right Place , from 3:30-5 p.m. Oct. 11, which will help dentists hire exceptional staff and keep them motivated.
Duc "Duke" M. Ho, D.D.S., chair of the ADA Council on Dental Practice and a dentist at Welch Dental Group in Katy, Texas, said he is particularly interested in attending these two courses with his team.
"Medical Emergencies will prepare us for situations that couldeasily occur during routine dental treatment," he said. "And as a large office, we also want to make sure we hire the right people — those who share common values and goals — and place them in positions that will lead to optimal outcomes for both patient and practice. Right People in the Right Place will hopefully provide insights to help us do just that."
SmileCon's hands-on activities are another CE highlight, giving dentists the opportunity to roll up their sleeves and take their skills to the next level.
These courses may include an additional charge, depending on the registration pass purchased. Pre-registration is required.
Four cadaver workshops are among the hands-on activities being offered at the meeting:
Socket Graft and Ridge Preservation — Cadaver Workshop, 2-5 p.m. Oct. 11.
Maxillary Sinus Graft Crestal Approach: Cadaver Workshop, 9 a.m.-noon Oct. 12.
The Anatomy of Local Anesthesia: Human Cadaver Dissection, 1-5 p.m. Oct. 12.
Cone Beam CT and Navigation Guided Dissection: Cadaver Workshop, 8 a.m.-3:30 p.m. Oct. 13.
Participants in hands-on activities will need to bring their own gear.
SmileCon offers four registration pass options: Smile Pass, Platinum Smile Pass, Dental Central Pass and Virtual Pass. Platinum Smile Passes are sold out.
For ADA member dentists, the Smile Pass is $499 in advance and $699 once standard pricing begins, and the Dental Central Pass is $149 in advance and then $249. The Virtual Pass is $199 for both advance and standard registration. To see rates for dental students, dental team members and more, visit SmileCon.org/registration .
Forthose who are unable to travel to Las Vegas and want a taste of the meeting, the Virtual Pass will offer holders a behind-the-scenes look at SmileCon, including sneak peeks backstage before the opening and closing sessions.
Virtual participants can also access exclusive interviews with select SmileCon speakers from the SmileCon Studio in Dental Central, and the pass will include both live and on-demand access to virtual CE, available through Dec. 31.
To learn more about SmileCon or to register, visit SmileCon.org .