GKAS to all dental health professionals: Be part of the movement
The ADA is inviting all dental professionals, including dental associations and dental schools, to sign up, beginning Oct. 1, to participate in its Give Kids A Smile program and join its efforts in improving the oral health of millions of children in the U.S.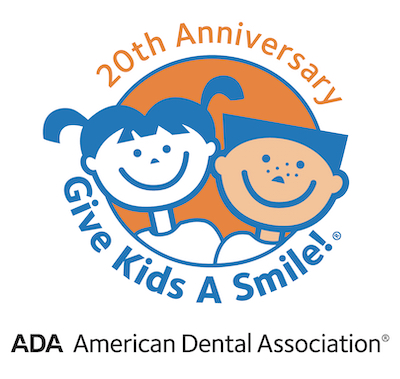 More than 6 million children have already been served. With the program's 20th anniversary in 2022, the message to all is clear: be part of the movement.
"GKAS opens the door to a dental home by offering free access to the most vulnerable among us: the children," said Cavan Brunsden, D.M.D., GKAS chair of the New Jersey Dental Association. "The dental profession is based on giving and serving those in need, and the NJDA GKAS effort does just that by helping to engage the entire dental community, within our state, to work together for the common good. Every child deserves a healthy smile, and GKAS delivers."
Program coordinators can visit ADA.org/GKAS to register events for 2022 and to access resources. Available resources include the GKAS data collection system, program planning guides, sample forms, letters and other helpful materials to help organize a GKAS event.
The Give Kids A Smile program first began in St. Louis in 2002 before launching nationally in 2003. It is the ADA's signature access to oral health care program for underserved children, with thousands of dentists and volunteers giving their time annually to provide free oral health education, screenings and treatment in their communities.
"Give Kids A Smile is a wonderful program for dental schools [because] it allows us to give back to our community with a special focus on kids and their families," said Carol Anne Murdoch-Kinch, D.D.S., Ph.D., Indiana University School of Dentistry dean.
  
"Through the program, we are able to provide a good 'first dental experience' for many of these children, and connect with their families," Dr. Murdoch-Kinch added.
"It provides our students the opportunity to learn the true meaning of professional service to the community and something they can continue throughout their careers," she said. "It is also a lot of fun for everyone."
In 2021, despite the continuing COVID-19 pandemic, about 8,000 dentists and 15,700 volunteers provided more than $15.5 million in oral health services to nearly 300,000 children. GKAS would not be possible without the continued generosity and support from national sponsors Henry Schein, Inc.  and Colgate. The ADA Foundation is also a generous supporter of this national effort.
Although GKAS will be celebrated nationally in February during National Children's Dental Health Month, many events and activities will take place throughout the year.
For more information and to sign up to be part of the movement, visit ADA.org/GKAS .