Dr. Natalia Chalmers selected as CMS' first chief dental officer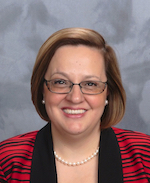 Dr. Chalmers
Washington — The Centers for Medicare and Medicaid Services has named Natalia Chalmers, D.D.S., Ph.D., the agency's first chief dental officer.
Dr. Chalmers, a pediatric dentist, brings more than 20 years of clinical, research, industry and regulatory experience to CMS, according to a news release .
The ADA, which has long advocated for CMS to install a chief dental officer, sent a Sept. 8 letter congratulating Dr. Chalmers.
"Leveraging your leadership in the dental profession and past experience as dental officer at the U.S. Food and Drug Administration, the Centers for Medicare and Medicaid Services is well-positioned to tackle the most serious issues in oral health care today," wrote ADA President Daniel J. Klemmedson, D.D.S., M.D., and Executive Director Kathleen T. O'Loughlin, D.M.D.
Drs. Klemmedson and O'Loughlin added that the Association looks forward to working with CMS and Dr. Chalmers on a number of key oral health issues, including expanding the participation of dentists in Medicaid, addressing dentist access to operating rooms in hospitals and ambulatory surgical centers and increasing oral health equity. They also said they would like to discuss the potential expansion of Medicare to include dental benefits.
According to CMS, Dr. Chalmers' passion for pediatric dentistry began early when she saw the "devastating effects of poor oral health in her elderly patients, and decided to devote her energy to understanding the disease process and the most efficient and effective prevention strategies."
Her educational background includes coursework at the Medical University Sofia, a residency in pediatric dentistry at the University of Maryland School of Dentistry, and a doctorate in oral microbiology from the University of Maryland School of Dentistry. She has also conducted research with the National Institute for Dental and Craniofacial Research and worked to transform health care data and information into "actionable insights to address equity, improve care, and better inform policy and funding."
"That research has translated into action improving oral care and advocating for the role health policy can play across the lifespan — particularly when item braces dental well-being as a facet of care for the whole person," CMS said.