October JADA finds oral health care workers less able, willing to work during COVID-19 pandemic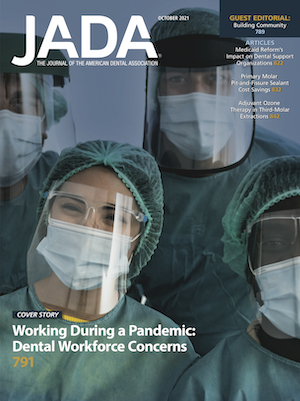 The COVID-19 pandemic decreased oral health care workers' ability and willingness to work, but dentists were more able and willing to work than their team members, according to a study published in the  October issue of The Journal of the American Dental Association .
The cover story, "Willingness and Ability of Oral Health Care Workers to Work During the COVID-19 Pandemic," looked at 459 responses to a survey distributed to dental-specific Facebook groups from May 1-June 30, 2020. Of the respondents, 30% were dentists, 49% were dental hygienists, 14% were dental assistants and 7% were nonclinical staff members.
Regarding their ability to work a usual shift, 53% of dentists said they could, compared with 33% of dental hygienists, 29% of dental assistants and 48% of nonclinical staff members. Fewer said they would be willing to work a usual shift, with 50% of dentists, 18% of dental hygienists, 17% of dental assistants and 38% of nonclinical staff members reporting their willingness.
The most frequently reported barrier to work was the obligation to care for a family member, which was cited more frequently by dental hygienists, assistants and nonclinical staff members than by dentists. Other barriers included having a second job, health problem or other personal obligations.
The survey also found dentists were more likely than dental team members to receive a COVID-19 vaccine.
"Our study found that there was a decreased ability and willingness of oral health care workers to report to work during the COVID-19 pandemic," said Allison C. Scully, D.D.S., corresponding author and clinical assistant professor at the Indiana University School of Dentistry. "The findings can help inform future initiatives of dental workforce readiness during a pandemic or other crises. Dentists should be prepared to discuss alterations to standard operating procedures to allay staff members' fears and improve retention rates during pandemics, allowing for improved access to oral health care."
Although Facebook offered a unique opportunity to gather data quickly during the pandemic, this study was limited by a low response rate and disproportionate demographics. Most respondents were from the Great Lakes and Midwest region. In a follow-up study, the authors plan to assess whether more information, access to personal protective equipment and actual vaccine availability have changed the attitudes of oral health care workers.
Other articles in the October issue of JADA discuss Medicaid reform's impact on dental support organizations , primary molar pit-and-fissure sealant cost savings , and adjuvant ozone therapy in third-molar extractions .
Every month, JADA articles are published online at JADA.ADA.org in advance of the print publication.