Webinar: Physician speaks on what dental issues she sees in ER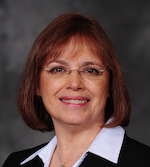 Dr. Schneider
A free ADA webinar in October will provide an emergency department physician's perspective on common dental complaints, pain management, emerging trends and practical tips on handling referrals.
Presented by the ADA's Council on Advocacy for Access and Prevention, Like Pulling Teeth: An Emergency Department Physician's Perspective on Dental Issues in the ED will stream Oct. 5 from noon-1 p.m. Central time and is worth one hour of continuing education credit.
The webinar features Sandra M. Schneider, M.D., senior vice president of clinical affairs at the American College of Emergency Physicians in Dallas and adjunct professor of emergency medicine at the University of Pittsburgh. She is the past president of the American College of Emergency Physicians, the Society for Academic Emergency Medicine and the Association of Academic Chairs of Emergency Medicine.
"Participants will understand how emergency physicians deal with common dental complaints that present to the emergency department and how COVID-19 has changed our world in the emergency room," Dr. Schneider said. "Emergency physicians and dentists need to work better together so that we can better care for our patients. This webinar I hope will be an early step in connecting us."