SmileCon events seek to help dentists on their financial journey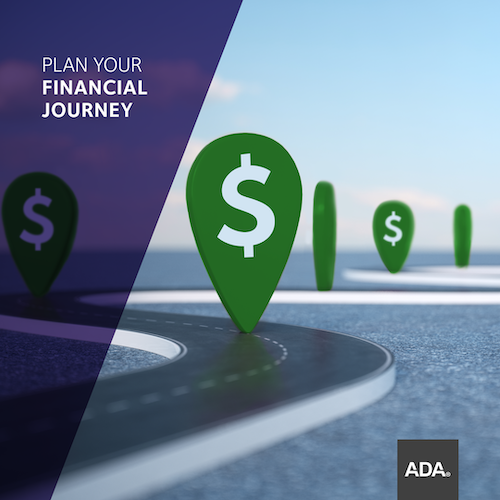 From retirement planning and insurance protection to balancing debt and securing practice financing, dentists attending SmileCon at Mandalay Bay Resort and Casino in Las Vegas have several opportunities to sharpen their financial tools.
Aptly called the Financial Journey Series, finance experts will speak at three separate programs at the Member Center Theater in the Dental Central - SmileCon's reinvented exhibit hall.
The first is Financial Advisor Services & Retirement Planning for ADA Members (1163),Oct. 11 from 11-2 p.m., which will answer questions on how to assess, manage and develop a solid financial plan to provide security for dentists and their families.
The Q&A session with dentists and Equitable Financial advisors will help attendees learn more about how to develop a holistic financial plan, with strategies to manage debt, accumulate wealth and achieve retirement savings goals. Speakers include Stephen B. Dunbar, executive vice president of Equitable Advisors Georgia Branch, and Santo LoPorto, senior director of Equitable Financial for the ADA Members Retirement Program.
The second program is Learn How to Balance Debt and Secure Practice Financing (2172), Oct. 12 from 9:30-10:30 a.m., which seeks to reassure dentists with significant dental school debt that securing practice financing can still be a possibility.
Speakers include Christine Lopez, a certified health care financial professional with BMO Harris Bank, the ADA Member Advantage-endorsed provider for practice financing; and Alex Macielak, who manages business development and partnership for Laurel Road, the ADA Member Advantage-endorsed provider of purchase mortgages and mortgage refinancing.
The third program, Insurance Protection for ADA Members (3151), Oct. 13 from 1-2 p.m., will detail what insurance coverage is more important for dentist professionals and how to navigate the broader competitive landscape of options - all to protect themselves, their family and their practice. Attendees can also learn on how financial planning and timely pivoting can provide financial security.
Speakers include Tom Kacirek, vice president with Protective Life Insurance Company; Gina Goodreau, second vice president of specialty insurance markets with Protective Life Insurance Company; and Mr. Dunbar and Mr. LoPorto.
These sessions are free to attendees and do not require registration.