The 10 most critical questions about the business of dentistry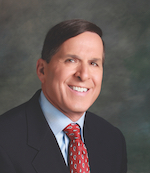 Dr. Levin
A new offering at SmileCon this year, the Dr. DennisD. Shinbori Acclaimed Educator Series features dental industry trailblazers who have exhibited a lifelong commitment to education and dentistry.
This series, named for Dennis D. Shinbori, D.D.S., a champion of dental education who died in February 2020, includes the  10 Most Critical Questions about the Business of Dentistry , (3101) course on Oct. 13 from 8-9:30 a.m. at the Mandalay Bay South Convention Center, Mandalay Bay Ballroom. Attendees will see how great questions lead to great answers and the 10 key business questions every dentist should be asking.
The course is worth 1.5 continuing education credits and will be led by Roger P. Levin, D.D.S. Dr. Levin is the founder and CEO of Levin Group.
Learning objectives for the course include identifying the 10 critical questions dentists should be asking about the future of their practice; discovering the answers to those questions and breaking them down into practical information to ensure their practice is on track; and helping them prepare the practice for long-term success.
The fee is included with the Smile Pass and Platinum Smile Pass.