Dental Central offers hot topics, space to recharge during SmileCon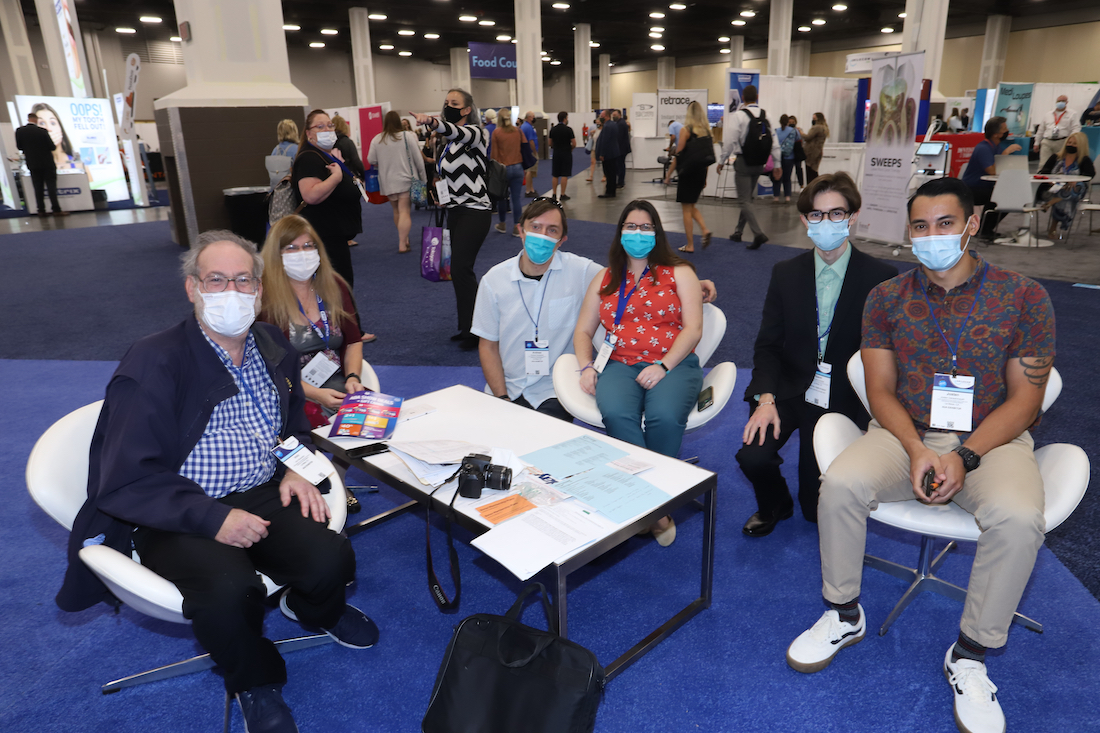 Dental Central is more than an exhibit hall - it's the hub of SmileCon.
Open each day of SmileCon, from 9:30 a.m. to 3:30 p.m., this year's Dental Central is where participants can network and build communities. Attendees can take advantage of continuing education courses, visit the ADA Member Center and explore new technologies.
Other features include a large stage, where dentists and dental team members can take courses on the most popular topics. New this year is the Dental Team Hub in Smile Zone C, which is designed to be a space exclusively for staff to learn what they need to thrive in their careers.
Dental Central will also showcase the following:
- Podcast and Influencer Hub. This year Dental Central is home to the inaugural Podcast and Influencer Hub in Hall B, Booth 1403, from 10 a.m.-3 p.m. Oct. 13-15. Attendees will be able to see and interact live with their favorite dental influencers and podcasters. The Hub will also showcase the premiere of the new podcast "Dental Sound Bites," an ADA podcast created for dentists by dentists, which will air its first two episodes during the meeting.
- Dental Olympics. Which team will win the first-ever SmileCon Dental Olympics trophy? Watch as dental students from Texas A&M University, UT Health Science Center at Houston, UT Health Science Center at San Antonio and Texas Tech University Health Science Center El Paso battle it out for state bragging rights. Day 1 will take place Oct. 14, 2:30-3:30 p.m., in Dental Central, Hall C, Booth 2303. On Oct. 15, 1:30-2 p.m., team winners from Day 1 will compete in Dental Central, Hall C, Booth 2503.
- Tech Empowerment Hub Powered by the ADA Member App. Here dentists can get expert technology advice and a full digital brand assessment. ADA members can download the reimagined ADA Member App and receive support navigating it in the hub, which is sponsored by the app. The app is designed to meet the needs of dentists at every stage of their careers, with a particular emphasis on early-career dentists just entering the profession.
- Mark Rolfing Experience. SmileCon is happy to welcome golf broadcaster Mark Rolfing, one of the game's most versatile TV personalities, and a survivor of stage four salivary gland cancer. On Oct. 14, attend a meet and greet with Mr. Rolfing for putting tips from 11:30 a.m.-3:30 p.m., in Dental Central, Hall C, Booth 2503. There is also a VIP reception in the Four Seasons TopGolf Swing Suite, benefiting Camp H-Town from 7-9 p.m. on Oct. 14. Tickets will go on sale in September for the reception. Finally, from 9-11:30 a.m., Oct. 15, hear about Mr. Rolfing's cancer journey firsthand along with cancer experts from MD Anderson, on Level 3, Grand Ballroom.
Need a moment to recharge and relax during the meeting? Dental Central has something for that too. For attendees who need a break from the meeting excitement, Smile Lounges will be ready with comfy seating and charging outlets. There will also be coffee and bar service available.
The ADA Member Center is located in Dental Central, Hall B, Booth 1633. Stop by to connect with the tripartite and learn more about valuable ADA member benefits and resources. New this year is the Real Talk C.H.A.T. series hosted by the ADA New Dentist Committee with a special focus on topics geared to early career dentists. The daily chats cover a broad range of subjects including sessions on student debt, cultivating leadership skills, dealing with depression and anxiety, planning for your financial future, buying a dental practice, and what to do if a treatment goes wrong. There is also the second annual Smile Tank, where attendees can watch nominated members present their innovative ideas on how to enhance ADA member value and compete to win $2,500.
Advanced registration for dental team members costs $149 for the Dental Central Pass, $449 for the Smile Pass and $2,999 for the Platinum Smile Pass. Advanced pricing is available until 5 p.m. Central time on Sept. 30.
Visit SmileCon.org to learn the latest on SmileCon.