March JADA assesses availability of fluoridated tap water in public spaces at University of California, San Francisco
1 water station available for every 80 students, employees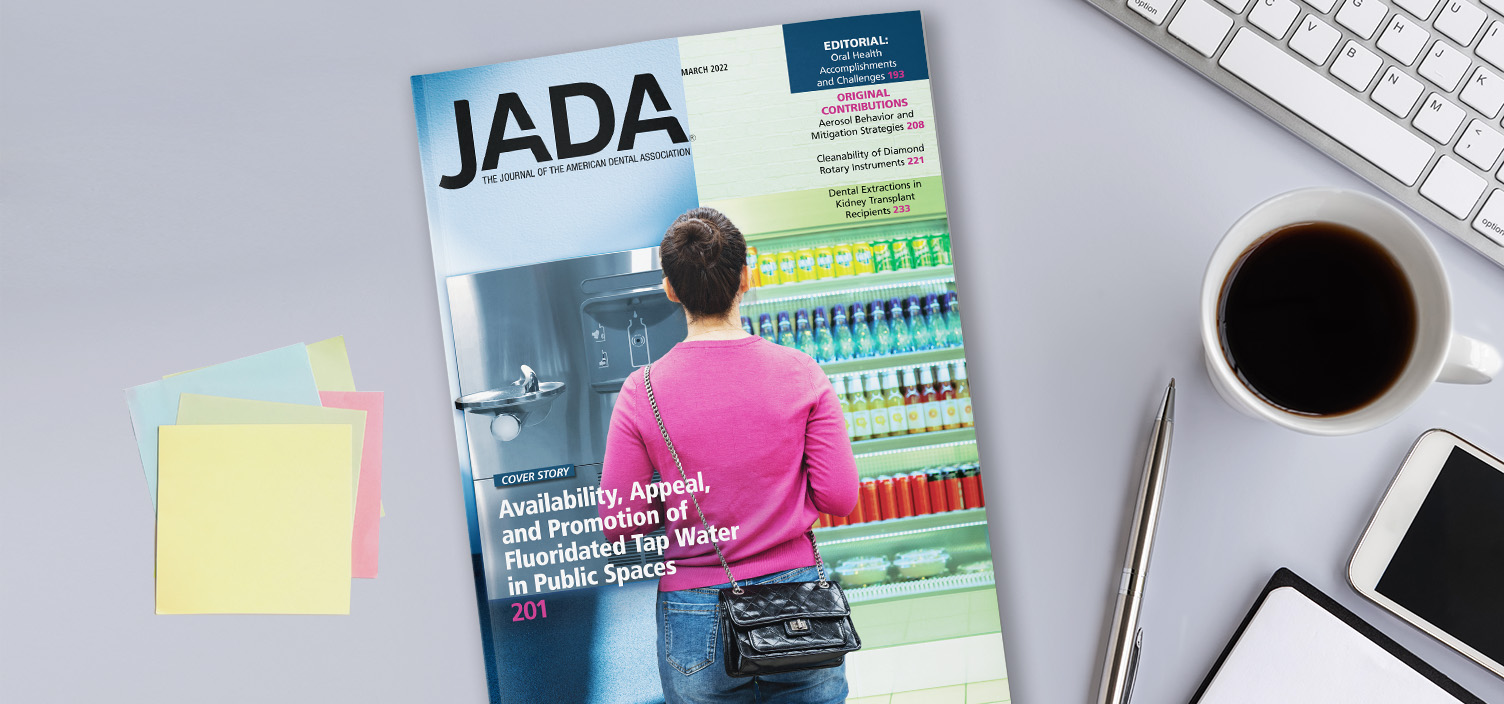 A study published in the March issue of The Journal of the American Dental Association looked at the availability of fluoridated tap water in public spaces at the University of California, San Francisco, finding one water station was available for every 80 students and employees.
The cover story, "Work Site Access to Fluoridated Tap Water and Retail Beverages: An Assessment of the University of California, San Francisco Campuses," evaluated the availability, appeal and promotion of fluoridated tap water compared with retail beverages.
The authors collected information on beverages available at University of California, San Francisco, hospitals and campuses from December 2019 through February 2020 using a web-based survey tool. Data collected included fluoridated water and retail beverage locations; type of water or retail beverage source; number of water sources per station; cleanliness, flow and any obstruction of water sources; proximity of water stations to retail beverage locations; signage near the beverage locations about water and beverage consumption; and type of retail beverages available.
The authors identified fluoridated water stations in 230 locations with 377 water sources — for example, both a traditional drinking fountain and a motion-sensor bottle-filling station at the same water station. A quarter of the water stations were obstructed or dirty or had unsatisfactory flow, and about 1 in 5 watercoolers lacked disposable cups.
The authors also identified 41 retail beverage locations. Of those, 29% had a water station within sight, and 11% had signage encouraging healthier beverage choices.
"Improved accessibility to fluoridated drinking water at work sites, along with sugar-sweetened beverage bans, can have a positive impact on employees' oral health and general health," said Navita Kalair, B.D.S., lead author of the study and dental public health specialist. "This study provides an evidence-based blueprint for similar work-site evaluations to help develop a practical approach for administrators to systemically prevent disease and promote health, while providing clean and safe drinking tap water."
Other articles in the March issue of JADA discuss aerosol behavior and mitigation strategies, cleanability of diamond rotary instruments, and dental extractions in kidney transplant recipients.
Every month, JADA articles are published online at JADA.ADA.org in advance of the print publication.