January JADA finds association between smoking cessation advice from dentist, number of quit attempts
Dentists need more training to support sustained abstinence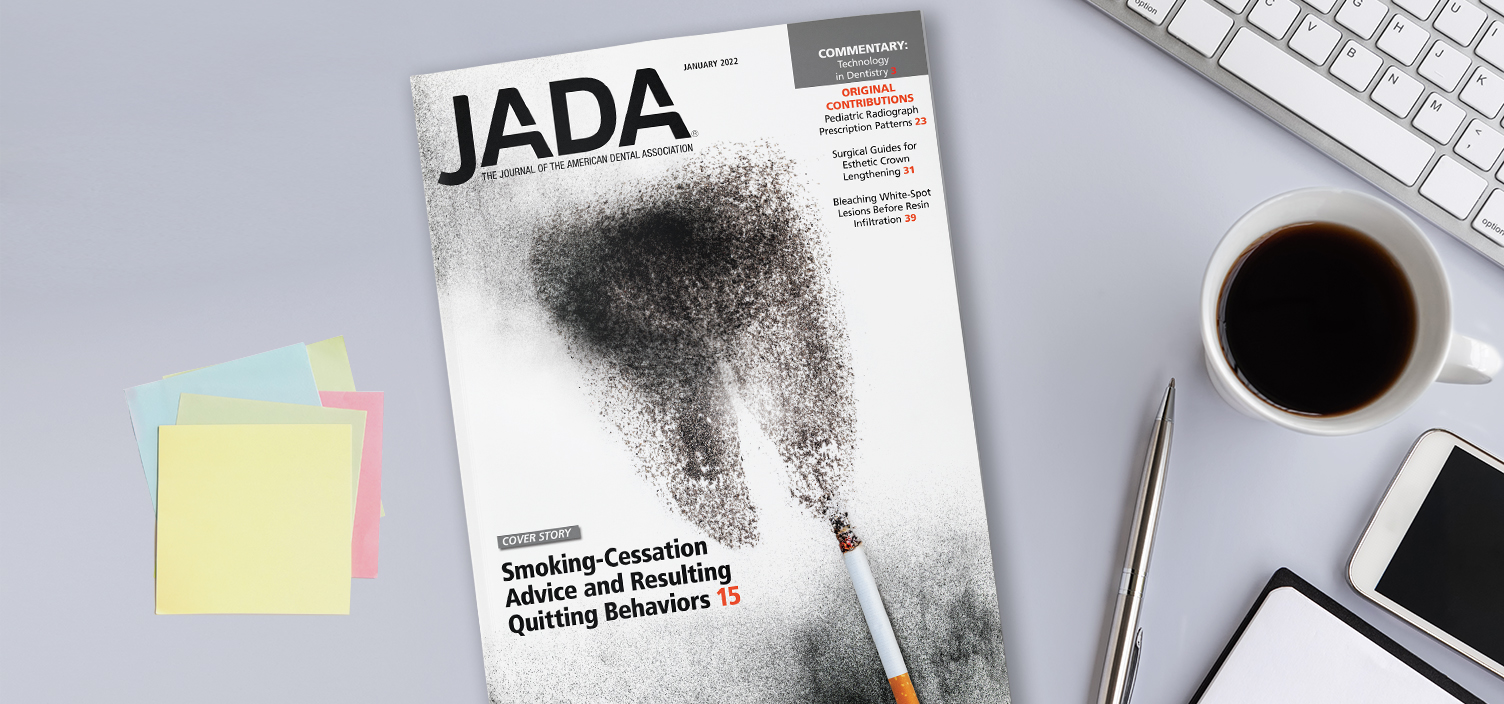 Receiving smoking cessation advice from a dental care professional is associated with more attempts to quit smoking but not with abstaining from smoking for at least six months, according to a study published in the January issue of The Journal of the American Dental Association.
The cover story, "Smoking-Cessation Advice from Dental Care Professionals and its Association with Smoking Status: Analysis of National Health and Nutrition Examination Survey 2015-2018," looked at the survey responses of 1,024 current or former smokers who were at least 18 years old, quit smoking within the past 12 months, and reported a dental visit within the past 12 months.
The authors found 44.6% of respondents had received smoking cessation advice from a dental care professional. While there was no significant association between smoking cessation advice and any attempt to quit smoking, meaning respondents had tried to quit smoking at least once, receiving advice was associated with an 18% increase in the number of times respondents had tried to quit smoking. Advice was not associated with abstinence for six months or longer.
"Dental care professionals are well positioned to help patients quit smoking, and yet our findings show that their full potential is not being realized, which gives us an opportunity to address this gap," said Sandhya Yadav, B.D.S., corresponding author of the study and Ph.D. candidate at the University of Florida. "Dental professionals need formal training on smoking cessation strategies to increase their self-efficacy in providing additional support to patients for sustained abstinence. Their access to smoking cessation resources and incentives for their time and effort may help incorporate cessation counseling in dental practice and help patients quit smoking and improve overall population health."
According to an ADA Clinical Evaluators Panel report published in the October issue of JADA, about half of dentists offer smoking cessation counseling or treatment to their patients. The report included the responses of 283 ACE Panel member dentists, finding 41% offer counseling only, 8% offer both counseling and treatment, 1% offer treatment only and 49% offer neither.
Other articles in the January issue of JADA discuss esthetic crown-lengthening procedures , the quality of life of patients with acute and chronic temporomandibular diagnostic subtypes , and the mix of dental procedures in public and private dental benefits programs.
Every month, JADA articles are published online at JADA.ADA.org in advance of the print publication.