Among first-year dental students, women see highest rate of enrollment
HPI: Black, Hispanic dental students see enrollment increases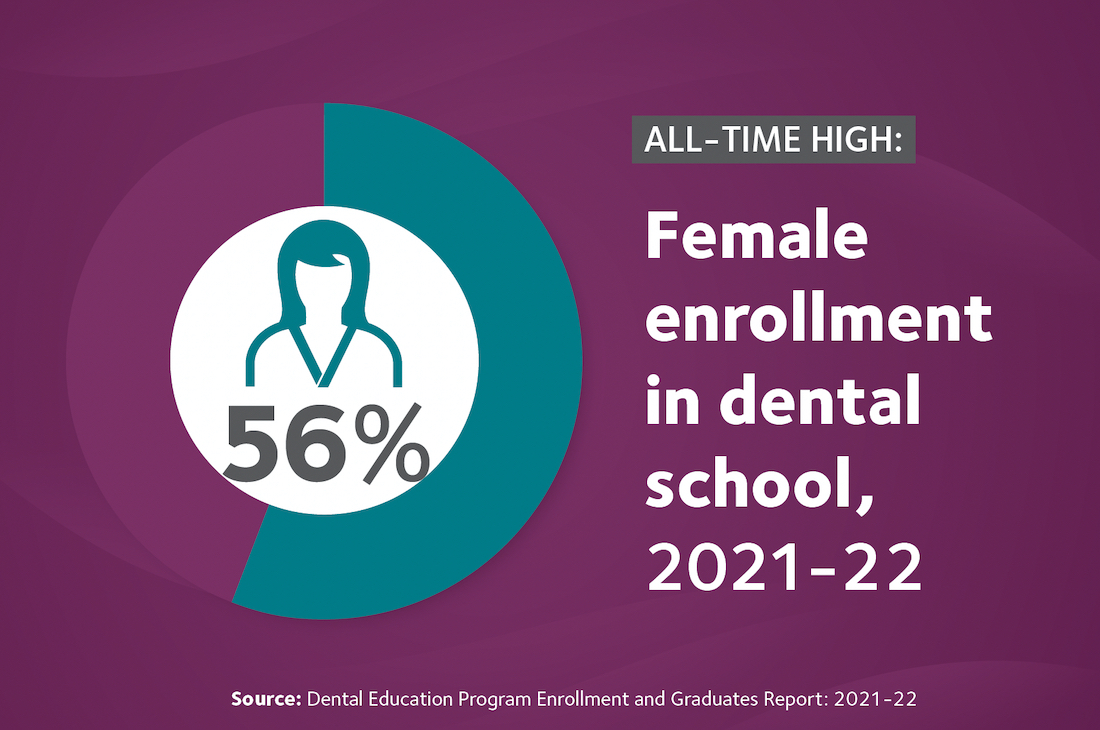 Women made up 56% of first-year dental students in 2021 — the highest rate ever, according to the ADA Health Policy Institute, which studied the latest changes in demographics of first-year dental students in the Commission on Dental Accreditation's Survey of Dental Education.

In addition, HPI found that first-year enrollment also increased among Black and Hispanic dental students compared to a decade ago, and decreased among non-Hispanic white dental students

According to the fall 2021 data, 49.5% of first-year dental students were white, the second consecutive year when enrollment among this group was less than half; 7.3% were Black (compared to 5.6% in 2011); 10.7% were Hispanic (compared to 7.2% in 2011); and 22.5% were Asian (compared to 23.8% in 2011).

HPI tracks demographic changes to study ongoing workforce trends. According to HPI, gender, and race and ethnicity affect systemic differences in practice patterns, including ownership rates, affiliation with dental service organizations, Medicaid acceptance, practicing in a shortage area, and amount of hours practicing.

"The trends we see in enrollment are going to accelerate dental practice trends like the growth of large group practice and the decline in ownership," said Marko Vujicic, Ph.D., HPI chief economist and vice president. "We know from our research that, all else equal, women and nonwhite dentists are more likely to practice in larger groups, for example. They are also more likely to treat Medicaid patients."

The gender shift is going to accelerate several trends, including practice consolidation and a shift away from practice ownership, according to HPI.

According to an HPI webinar in March, gender parity is projected to reach the dentist workforce in 2040, as more women pursue dentistry. Women made up 20% of the dentist workforce in 2005; 34.5% in 2020. Practice ownership also continues to decline, from 84.7% in 2005 to 73% in 2021.
These data were published in the 2021-22 Dental Education Program Enrollment and Graduates Report, a new HPI publication based on CODA surveys data. For the first time, one report highlights the latest information gathered by CODA's annual Surveys of Dental Education, Surveys of Advanced Dental Education and Surveys of Allied Dental Education.
To download the full report, visit ADA.org/edreports.