ADA ADSO align on priorities
Leaders discuss collaboration during webinar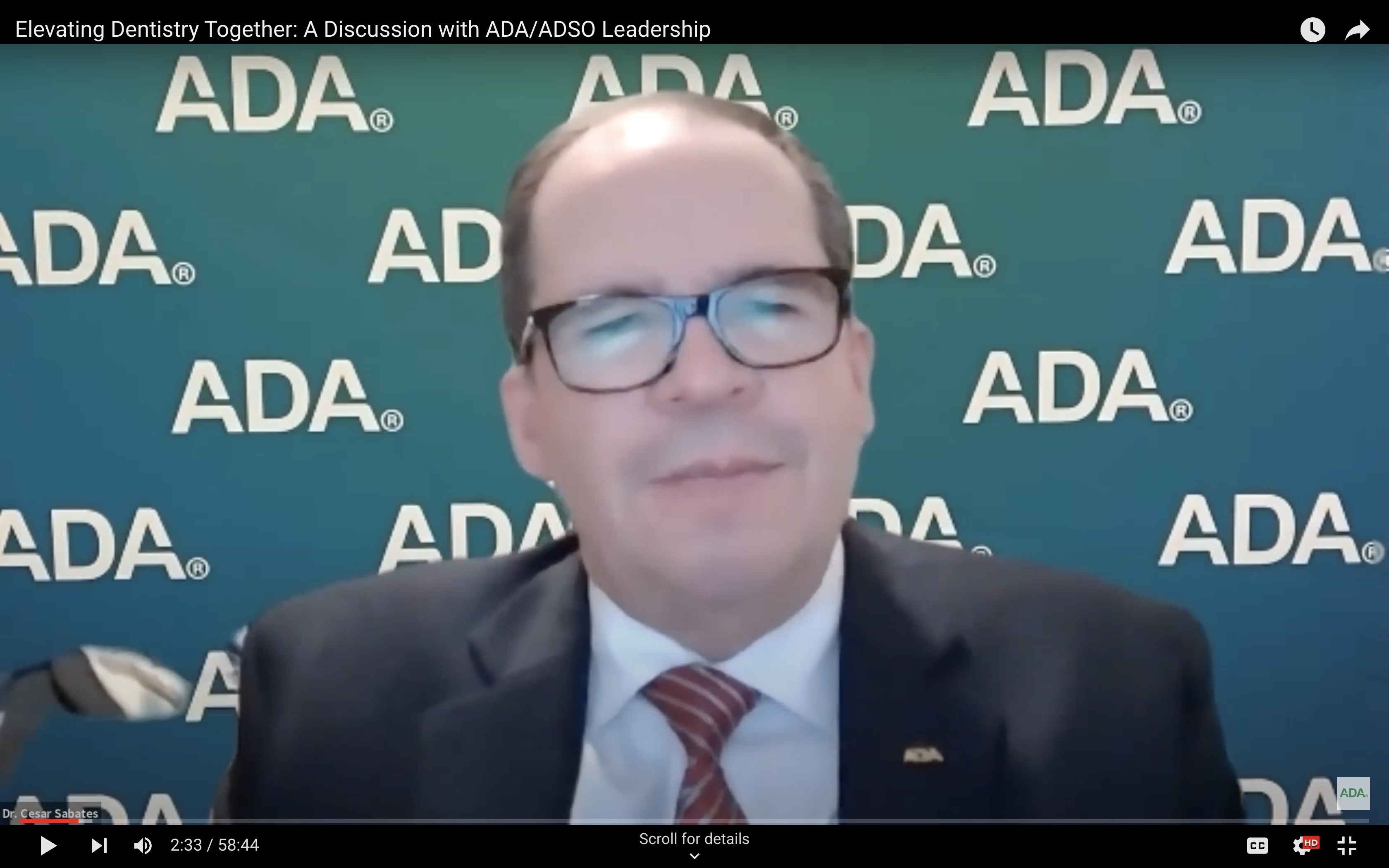 The leadership of the American Dental Association and the Association of Dental Support Organizations recently participated in a webinar to discuss the value of the two organizations' collaboration and what it means for the future of dentistry.
The webinar, titled Elevating Dentistry Together, covered a wide range of issues, including generational differences in dentists and workforce shortages affecting the dental profession. The recurring theme was that with fewer dentists entering solo practices, the two organizations need to work closely together to serve patients and the dental profession.
"We are better when we're together," said ADA President Cesar Sabates, D.D.S. "We need all of our member dentists to work together for one cause."
One of the areas the two organizations highlighted as important to pursue jointly is advocacy for issues both at the federal level and with state dental associations.
"Coming together with a stronger voice — being unified — to support the profession and the people we serve is critical," said ADA Executive Director Raymond Cohlmia, D.D.S. "We all need each other to forge the future."
"It is very collaborative, very cohesive and ongoing," said Andrew Smith, executive director of ADSO.
Another one of the major issues the two organizations are both addressing is workforce shortages.
"The number one thing I hear from our members are workforce challenges—both wage pressure and workforce supply," Mr. Smith said. "One of the things we're hugely focused on at ADSO is developing the next generation of workforce. It's on us to develop the future generation of the workforce — not just dentists, but everyone in the office."
Both organizations agreed that generational differences are prompting more dentists to pursue the dental service organization model.
"The dental service organizations are becoming so predominantly popular because they answer a way of life," said Dr. Cohlmia.
Emmet Scott, president of ADSO, said dentists are looking for more support and more autonomy to focus on the clinical side and not be as focused on the back office, which also illustrates the complementary nature of ADA and ADSO, he said.
"Who's going to make sure we have the highest level of IT support so ransomware isn't coming into these practices?" Mr. Scott said. "I think that's an ADSO responsibility so that the ADA can focus on the clinical care that needs to happen."
To access the full webinar, click here.