Always looking for the 'man in the yellow' hat
SmileCon closes with inspirational keynote from retired astronaut Leland Melvin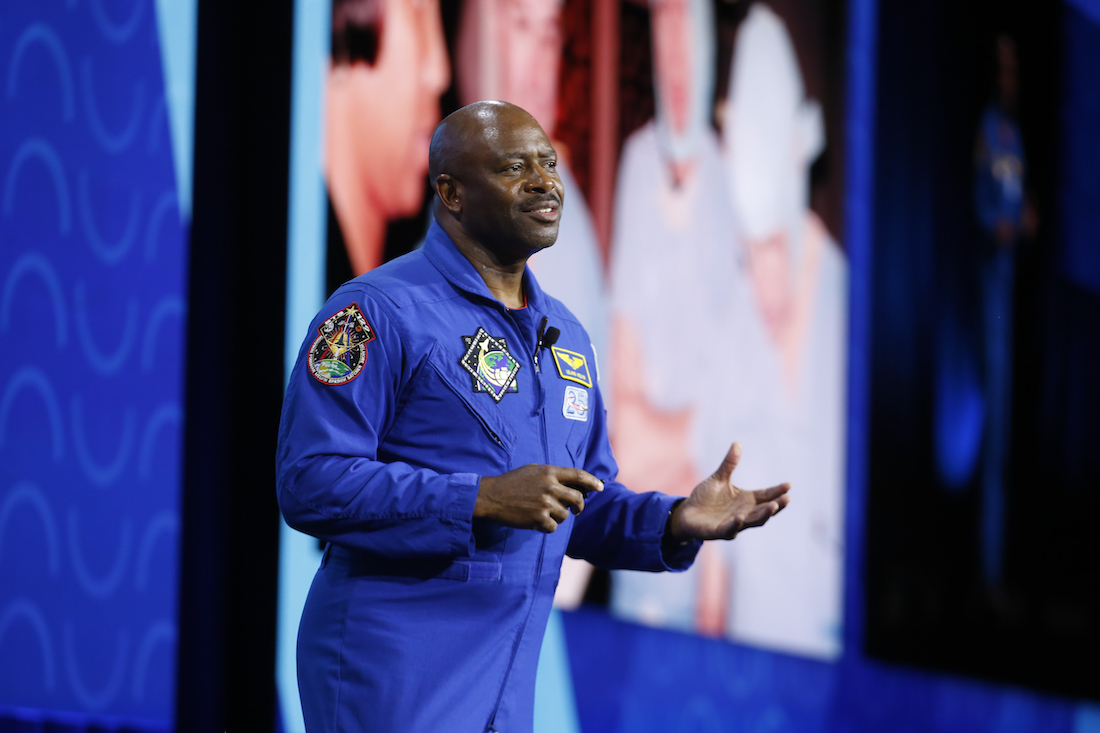 Who will be the first dentist to go to Mars?
Retired astronaut Leland Melvin isn't joking when he asks a room of dentists this question.
"We've had all these incredible things happen," he said. "Look at the Webb telescope. We have a telescope that's one million miles from Earth taking pictures of galaxies that are created from stardust ? these things happened because people have the right stuff and work together as a team."
Mr. Melvin, who is also an engineer, educator, author and former NFL wide receiver, was the Oct. 15 keynote speaker during the SmileCon closing session in Houston.
A native of Lynchburg, Virginia, Mr. Melvin went to space two times. He has also co-chaired the White House Federal Coordination in STEM Education Task Force, which helped develop a five-year plan for the nation's science, technology, engineering, and mathematics education.
"STEM is critical to our livelihood as a civilization," he said.
But despite these amazing accomplishments, the roads to his success were not always easy or clear. Which is why he believes that everyone needs "the man in the yellow hat." Inspired by the unnamed character in the Curious George books, "the man in the yellow hat" is someone who's always in your corner, who always has your back.
Mr. Melvin should know: In several pivotal moments in his own life, these types of angels have shown up for him time and time again.
The men and women in the yellow hats
There was his father who bought an old Merita Bread truck and told him in time it would become an amazing recreational vehicle for the family - which it did after they both put in long hours of hard work in transforming it.
And his educator mother who sparked his interest in chemistry and physics.
"My brain was activated to science because I experienced it. It was experiential learning at home," he told the audience. "Think about your future employees going into this journey of dentistry because someone exposed them to experiential learning, how to take care of things, how to create things, how to have empathy, how to explore someone's mouth and all the things that can go into help save teeth."
Then there was his high school football coach, who told him to get back in the game after Mr. Melvin dropped a most-certain touchdown. Unaware that a college scout was present, he trotted back out and made the next play. Pandemonium ensued and his team won the game. The scout was seconds away from scratching Mr. Melvin off his list of prospects when he heard the roar of the crowd and went back into the stadium.
That catch resulted in Mr. Melvin receiving a $180,000 scholarship to the University of Richmond.
The scout was impressed that he didn't give up.
"And the only reason I didn't give up was because my coach believed in me when I didn't believe in myself. He was my man in the yellow hat that moment."
Mr. Melvin would go on to be drafted as a wide receiver by the Detroit Lions. When a career in the National Football League  didn't work out, a friend urged him to apply to NASA to be an astronaut. It took some convincing, but he eventually applied and was part of the 1998 class. (He remains the only person drafted into the NFL to have flown in space, according to his website.)
Overcoming challenge
One of Mr. Melvin's biggest challenges occurred in April 2001, when during his first day of spacewalk training in NASA's Neutral Buoyancy Laboratory, he suffered permanent hearing damage.
As the technicians lowered him into the submerged pool that houses a space station and space shuttle where astronauts learn to float and simulate real spacewalks, Mr. Melvin realized his suit was missing the Valsalva pad. The pad helps astronauts equalize the extreme pressure in their ears. Mr. Melvin thought he would be OK.
Down he went. 10 feet. 20 feet. He was not OK. The pressure and pain were building. Soon all he heard was static. Then ... nothing.
"They started pulling me out of the water ... popped my helmet off," he said. "There was a doctor, the flight surgeon, who started walking over to me. He was moving his lips and I'm thinking, 'Why is he playing with me? This is pretty serious stuff and he's just moving his lips.' When he got closer to me, he took my right ear and when he pulled his hand back, there was a river of blood pouring down the side of my face. I was completely deaf."
Enter Daniel Goldin, NASA administrator at the time, who visited him at the hospital, and showed him an image captured from the Hubble Space Telescope.
After learning Mr. Melvin had lost his hearing, Mr. Goldin told him: "NASA never gave up on the Hubble. I will never give up on you."
Another man in the yellow hat; another angel helping him in his journey.
The hearing eventually returned to Mr. Melvin's right ear but never came back to his left, leaving him unqualified to fly in space. Instead, he began working in education at NASA Headquarters in Washington, which is where he was when the space shuttle Columbia disintegrated upon re-entering the atmosphere in 2003.
All seven astronauts on board lost their lives that day. Mr. Melvin was dispatched to tell the family of David Brown, his friend who was on board, what happened.
Mr. Brown's father told him: "Leland, my son is gone. There is nothing you can do to bring him back. But the biggest tragedy will be if you don't continue to fly into space to honor their legacy."
Honoring their legacy
Mr. Melvin would go on to attend seven funerals, talk with all the families. Up and down he went on airplanes, clearing his ears with no trouble. Unbeknownst to him, someone important was watching him do this, and thinking: If he doesn't have any trouble with all these flights, maybe, just maybe he could go to space.
That man was Rich Williams, a chief flight surgeon, who eventually got NASA to let Mr. Melvin sign a waiver, paving the way for him to go to space.
Yet another man in the yellow hat.
Mr. Melvin would go on to space two times, first as a mission specialist on the Space Shuttle Atlantis STS-122 in 2008 when his job was to help install a laboratory to the NASA space station. On that mission he worked with astronauts, scientists and engineers from all over the world.
"When you think about people who used to fight against each other are now working together to advance civilization. And when you go around the planet you see everyone who was, who is and will be on planet Earth. It's a perspective change, it's called the orbital perspective and it makes you think of how small we really are in the grand scheme of things."
He went to space again in 2009 on the STS-129, where he helped installing spare parts for the International Space Station. On that mission, he was joined by Robert "Bobby" Satcher, M.D., making it the first time two African American men were on the space station at the same time.
"People were concerned about my hearing but, I trained so hard [using the space shuttle's robotic arm] that I knew that if anything happened, I couldn't hear something, I knew exactly where to put people. Bobby and I trained to the point where he would just say, 'Take me where I need to be.'"
What he's doing today
The 2009 mission was his last in space. Since then, he's written his memoir, Chasing Space: An Astronaut's Story of Grit. He also continues to educate and speak about STEM and space. He believes that astronauts will return to the moon one day and that the future holds missions to Mars.
In conclusion he thanked dentists for doing what they do in helping people. He encouraged everyone to go find their own man in the yellow hat.
"Make sure you find him or her to cheer you on your journey and the resilience and the perseverance of anything that you do is critical to advancing our civilization. So, SmileCon 2022, thank you very much."