Dental Sound Bites podcast showcases the power of organized dentistry
Upcoming episode features '22 graduate Dr. Joy Nisnisan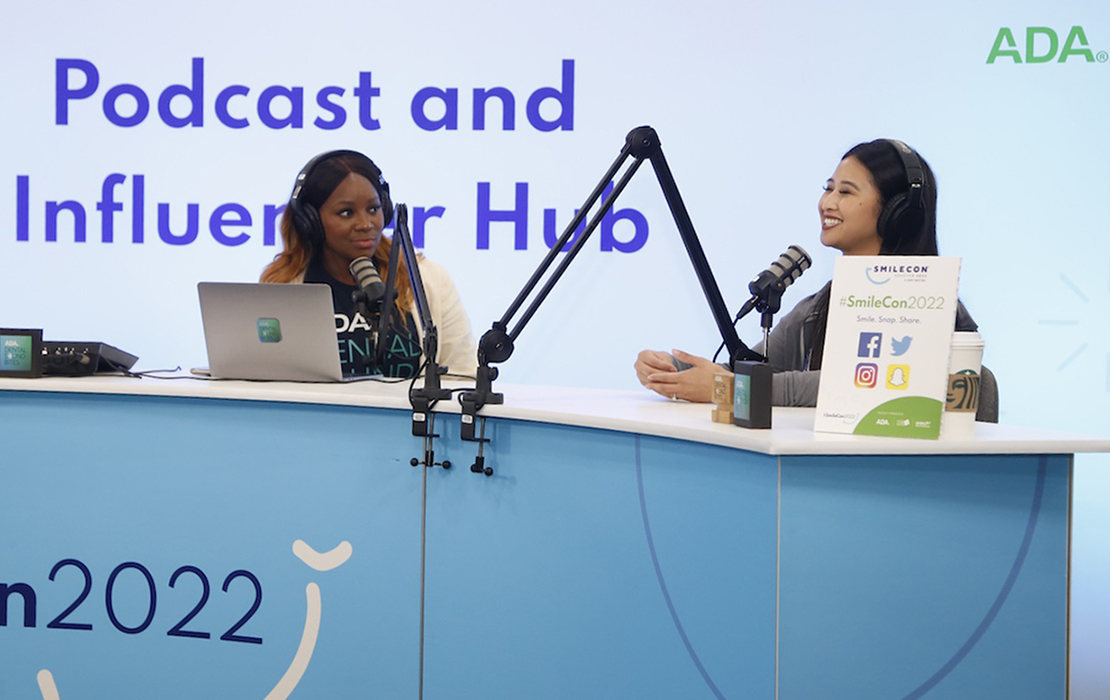 Joy Nisnisan, D.D.S., is passionate about organized dentistry and loves sharing the message of getting involved with other dentists and dental students.
"It really feels like this big family of people I can talk to about anything," she said.
A 2022 graduate of the UTHealth Houston School of Dentistry, Dr. Nisnisan shared her story during an Oct. 15 live taping of the new ADA podcast, Dental Sound Bites, at SmileCon.
Hosted by ADA member dentists ArNelle Wright D.M.D., and Mary Jane Hanlon, D.M.D., Dental Sound Bites is the ADA's flagship podcast. The new biweekly podcast comes out every other Tuesday. Dr. Nisnisan's episode is scheduled to be released Tuesday, Nov. 1.
During the live taping, Drs. Wright and Hanlon interviewed Dr. Nisnisan about her involvement in organized dentistry.
"I think it's really, really important for us to talk about why it matters to us, and how all dentists can help shape the future of our profession," Dr. Wright said.
Dr. Nisnisan's own journey began early, as an undergraduate at the University of Houston when she joined the predental society and continued with the American Student Dental Association, where she served as a vice president during her fourth year of dental school.
"I got involved because I didn't have any dental connections when I was interested in becoming a dentist," she said. "My first exposure was the Greater Houston Dental Society, and I kind of jumped all in. I said, 'Hey, I'm a pre-dental student now and I'd love to get involved.'"
The Greater Houston Dental Society members urged her to go to the Star of the South dental meeting in Houston, and the connections she made there solidified her love for the profession.
"What do you think [organized dentistry] can do at the state, local, and national level for dentists, in your opinion?" Dr. Hanlon asked.
"I think organized dentistry is this whole other side of the profession," Dr. Nisnisan said. "We have our clinical side, and then we have organized dentistry that's fighting for us when we're sleeping, even when we're in a dental school."
"I think that every component is so important, and how we make sure people are involved, and the local level is where it starts, and then you come to find, "Wow, I really care about this issue in practice," she continued.
Nowhere was that more evident than at the beginning of Covid-19, she added.
"We had Texas dentists speaking with the governor about opening up Texas dental practices again, and that got us back to work in just a couple of months after the pandemic hit. There are so many other health care professionals that had to stop working. But the reason why dentistry was back to work is because of organized dentistry and the connections we shared. And that is powerful."
Want to hear more? Tune into the Dental Sound Bites episode when it drops.
Season One of Dental Sound Bites is available on your preferred streaming service, including Apple Podcasts, Google Podcasts, Spotify, Stitcher, iHeart and Amazon Music. New episodes are released every other week.
Listeners can also enjoy bonus content when they tune in on the ADA Member App.