Reality TV, exotic animals and dentistry
SmileCon DENT Chat hosted by Dr. Heavenly Kimes also featured Drs. Tina M. Brandon Abbatangelo, Ashley Rosenbaum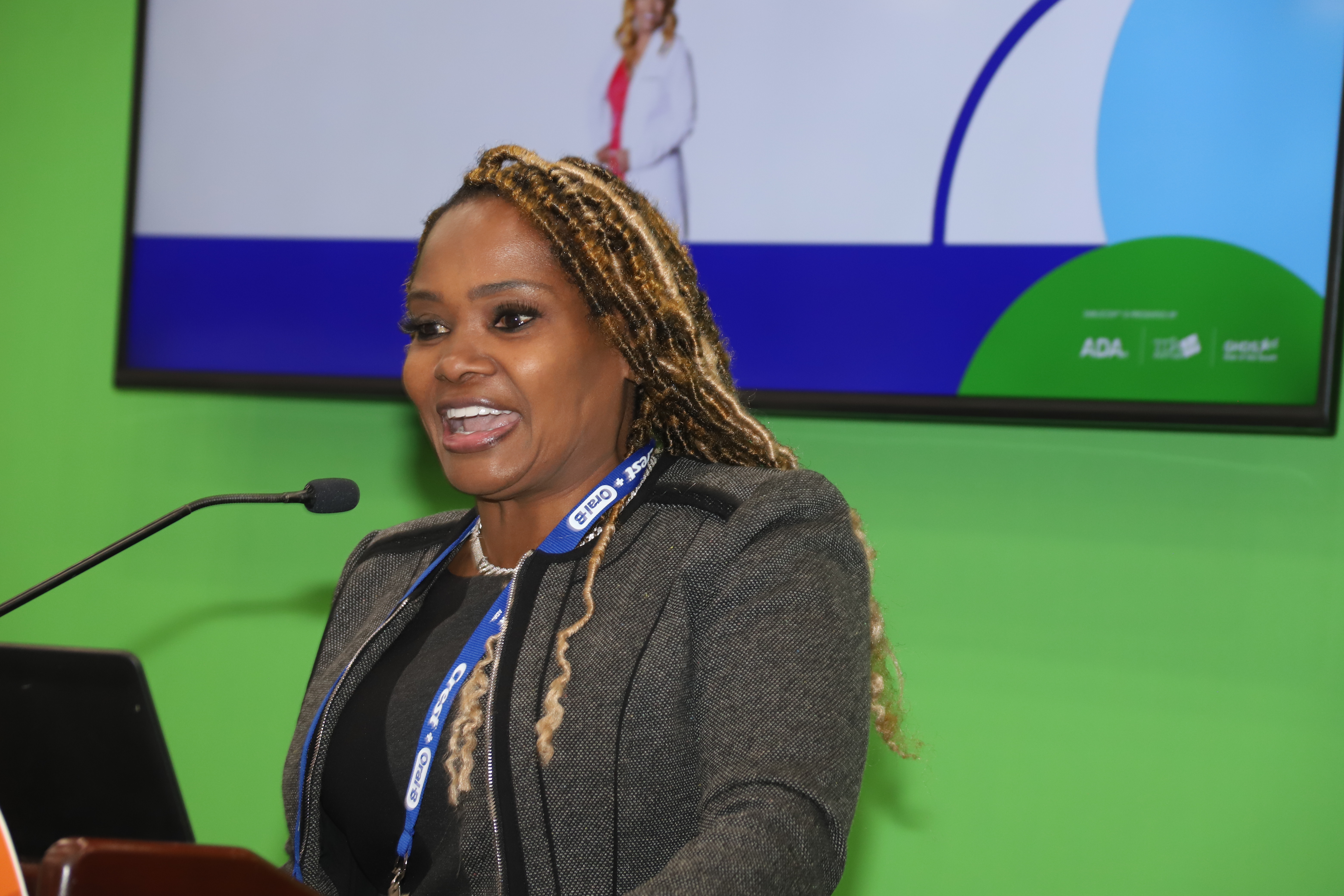 Being open to new opportunities can sometimes lead you to places you'd never dream you'd go.
That was one of the takeaways from the Oct. 14 DENT Talk during SmileCon.
Hosted by dentist, author and inspirational speaker Heavenly Kimes, D.D.S., the one-hour session shared insights from dentists with compelling stories and backgrounds.
In addition to Dr. Kimes, star of Bravo's "Married to Medicine," Tina M. Brandon Abbatangelo, D.D.S., exotic animals dentist, and Ashley Rosenbaum, D.M.D., who appeared on ABC's "The Bachelor" and "The Bachelorette," also shared their stories and journeys to how they got to where they are today.
Working with animals
Dr. Abbatangelo, D.D.S., loves teeth.
If you're in the dental profession and reading this article, you might be thinking, "How original. A dentist speaking at SmileCon cares about teeth."
But for Dr. Abbatangelo, when she looks at the teeth of her patients - be it person or animal - seeing a set of strong teeth signifies strength.
"I love to see four fully intact, sharp, intimidating canines on a tiger. Because that's a sign of vitality and strength. I like to see it on a lion as well. And also on monkeys."
Dr. Abbatangelo, who attended the University of Iowa School of Dentistry, became interested in working in dental veterinary medicine after discussing dentistry with her own vet.
She eventually went to a meeting and took veterinary courses on her own.
A fortuitous break came when she met Peter Emily, D.D.S., during an ADA meeting in the early aughts. She began volunteering with the Peter Emily International Veterinary Dental Foundation, whose mission is to provide life-improving advanced veterinary dental care and treatment to exotic animals.
She also became an advocate and even helped pass a law in Nevada she hopes will prevent future animals from suffering.
"I want children [and everyone] to know that these exotic animals are not for our entertainment."
Becoming a reality TV star

Dr. Kimes didn't go searching for reality TV stardom. It came looking for her.
In fact, when the opportunity came knocking, she wasn't sure she was interested. She asked friends and colleagues their thoughts. None thought it was a good idea.
Then she talked to the person she trusts and respects most in the world: her husband, Damon Kimes, M.D.
His answer surprised her.
"He said, 'You have a mouth. You have a heart. You have thick skin and you're funny,' she recalled. "'I think you'd be great.' So, I decided to do it."
Off into the world of reality TV she went, joining the case of a Bravo show called "Married to Medicine."
At the time she owned nine dental practices in the Atlanta area. She eventually sold them all and started a new single dental practice devoted to cosmetic dentistry.
The fame from her show helped her there too, when another Atlanta-based Bravo star, Kandi Burruss, of "Real Housewives" fame, shared a photo after visiting her practice.
"If I'm going to be a reality TV star, I'm going to be the best reality TV star," she said.
The fame and celebrity also helped her give back, helping her stay true to her Meharry Medical College School of Dentistry roots, said Dr. Kimes, who is also the author of "Dr. Heavenly's Business Prescriptions" and "The Business of Love."
A self-described hustler, Dr. Kimes enthralled the audience with her social media strategy, passion for investing, and implored dentists to get involved on the business side of practicing.
"I'm a good dentist," she said. "But you have to have business acumen."
She also urged her fellow dentists and attendees to "put it out there and be bold" in the things they want for themselves in life.
"Find somebody in your life who inspires you," Dr. Kimes said.
Overcoming misperceptions
For Dr. Rosenbaum, reality TV also opened the doors to opportunity. But unlike Dr. Kimes, it wasn't always the most positive of experiences.
While still at the University of Pennsylvania School of Dental Medicine, one of her friends urged her to apply to be on the ABC reality show, "The Bachelor." She was quickly cast on the show and asked her school administration to see if she could take time off. They encouraged her to explore the opportunity.
Being on the show was a mostly positive experience, but she learned something valuable about herself: She valued authenticity. She also was eager to get back to dental school.
Reality TV had other plans.
This time, she was invited to be the main star of "The Bachelorette."
She took more time off from dental school and went on to find love in front of millions of viewers - going on to marry the man she met on the show, J.P. Rosenbaum.
"In the moment, it was a great experience," she said. "Then it started airing. The criticism you receive is out of control."
Suddenly everyone had an opinion of her: She's not smart. She's not a real dentist.
"It was a dark time for me," she recalled.
The comments - social media especially - got to her. But she didn't let it stand in her way of fulfilling her dream of becoming a pediatric dentist.
"I wouldn't change it because it taught me how to treat and interact with my patients and parents without judgment," said Dr. Rosenbaum, who went on to open her own practice, Premier Pediatric Dentistry in Coral Gables, Florida, in 2021. "So often in dentistry we encounter people that don't believe in what we do, or the services we provide and how important they are. When people walk into my office and refuse X-rays, treatment for their children, fluoride, etc., my focus is to educate them in a nonjudgmental way and to take the time to educate them on the importance of dental care and treatment for children."
"I've experienced wonderful success in my office. I'm not talking about financial success or number of patients, but I have helped children gain access to care that they would not have otherwise received without their parents understanding the importance and value of their dental treatment."