SmileCon attendees celebrate giving back, helping others
More than 1,000 backpacks assembled during Philanthropy Day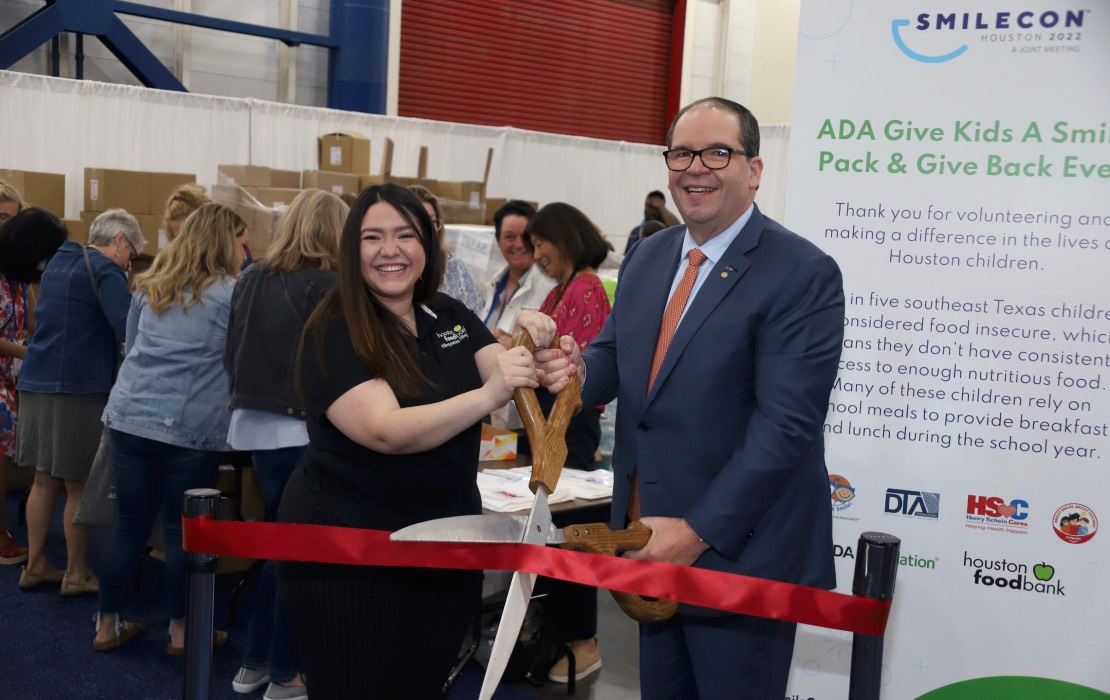 Houston - Along with getting the opportunity to meet, play and learn with their dental colleagues, there is another important tradition that takes place each year during SmileCon: Giving back.
Oct. 13 was the opening day of the meeting, but it was also something else: Philanthropy Day.
During Philanthropy Day, attendees were invited to participate in charitable activities, learn more about volunteer opportunities and share their passion for giving back. The day started early with a 6 a.m. 5K fun run around downtown Houston to support the ADA's Give Kids A Smile program. Volunteers then headed to Dental Central for the Give Kids A Smile Pack & Give Back Event, a collaboration with the Houston Food Bank's Backpack Buddy Program, to pack backpacks with nutritious food, oral health care products and education materials for food-insecure children in Houston. The Colgate Bright Smiles, Bright Futures team also screened more than 200 children during the event. (Read the Colgate story here.)
"It's important for the ADA to give back," said ADA President Cesar R. Sabates, D.D.S. "Now let's get packing for the children of Houston."
The Houston Food Bank's Backpack Buddy program provides nutritious, kid-friendly food for more than 700 area schools and serves up to 10,000 children a week, according to Andrea Villegas, Backpack Buddy coordinator. She said each backpack contains fruit, grains, protein and veggies.
"Usually children receive breakfast, lunch and snacks at school, Monday through Friday," Ms. Villegas said. "Unfortunately, they go home to little or no food on the weekend. I have heard many stories from parents who have to make difficult decisions on whether to pay their utilities or buy food for their children. So, thank you so much for being here. It takes a community to make sure kids are healthy for the future."
Sponsors of the Give Kids A Smile Pack and Give Back Event included Henry Schein, Colgate, the Dental Trade Alliance Foundation and the ADA Foundation.
For additional information about Philanthropy Day events, contact gkas@ada.org.