New Jersey health center becomes first FQHC to host, graduate community dental health coordinators
'It bridges the gap between the medical and dental fields with needed public health and care coordination skills for our dental professionals'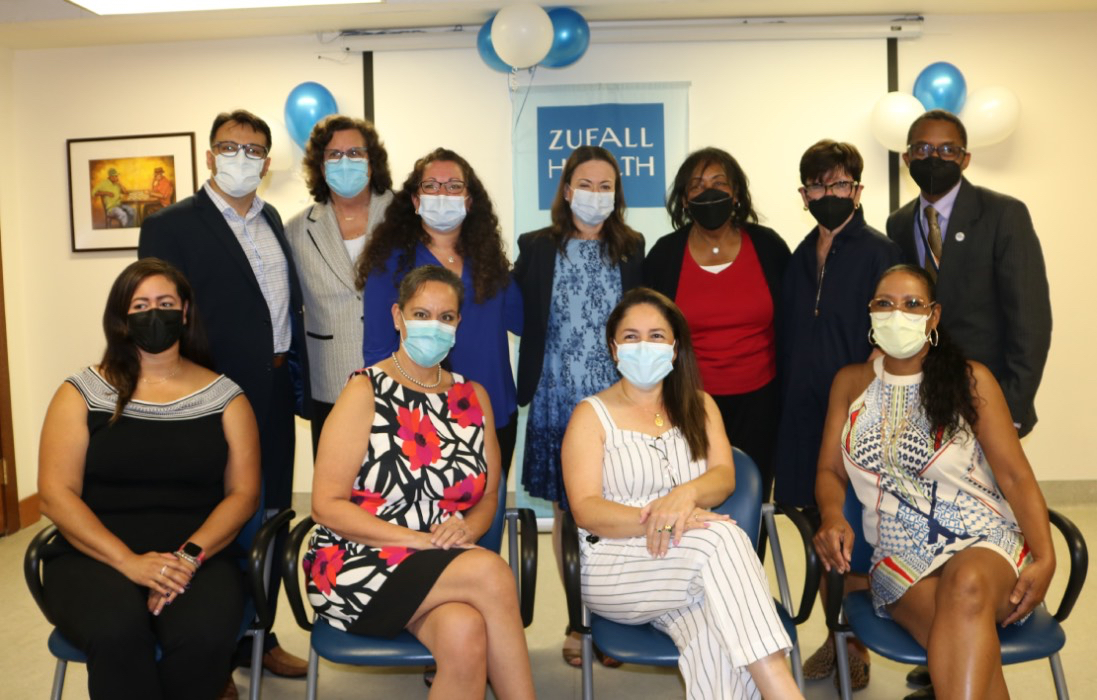 In a partnership with the ADA, the New Jersey-based Zufall Health became the first federally qualified health center to graduate a class of community dental health coordinators in September.
CDHCs, who are typically trained at community colleges within dental assisting or hygiene programs using an ADA-developed online curriculum, educate and navigate patients to appropriate dental services and ideally dental homes in the interest of better overall health. They often serve the same communities where they were born and currently live for maximal cultural competency and awareness of the local social determinants of health.
Zufall Health's 12-month CDHC program was led by Zufall Health Chief Dental Officer Sam Wakim, D.M.D., a public health dentist who is a long-time proponent of CDHCs and has engaged them to help schedule the human papillomavirus and COVID-19 vaccines at Zufall clinics, among other roles and responsibilities.
"They are so critical for the work we do," Dr. Wakim said.
The graduation ceremony was attended by many officials and dignitaries from around the region who recognized the importance of the milestone.
"Regular oral health care plays an important role in disease prevention, but many New Jerseyans lack either the resources or education to get the care they need," New Jersey Assemblywoman Aura K. Dunn said. "That is why I am so proud to support Zufall Health's effort to create a pipeline of community dental health coordinators in the state. I applaud the professionals who took the time to undergo additional training that will build bridges to better health among our most vulnerable populations. It is an innovative approach that integrates caring medical providers into our underserved communities to improve public health outcomes."
The origins of the CDHC program began in 2004, when the ADA, acting on a resolution passed by the House of Delegates, set up a task force to determine how to best meet the oral health needs of dentally underserved rural, urban and American Indian communities.
Two years later the ADA established the community dental health coordinator pilot program as one component in the effort to break through the barriers that prevent people from receiving regular dental care and enjoying optimal oral health.
Thirty-four graduates from that pilot program were the pioneers for those programs, which have now graduated more than 800 individuals.
"As the state dental director at the New Jersey Department of Health, I am happy and proud of this important oral health initiative and its existence here in our beloved state," said Darwin K. Hayes. "The event recognizing graduates is very special. It demonstrates how an idea becomes a reality; a reality that serves the purpose of bridging the gap to provide the type of resources and assistance our residents need to improve their health through oral health."
Nashon Hornsby, J.D., assistant Commissioner of the Division of Community Health Services at New Jersey's Department of Health, said, "This well-trained group of deeply committed professionals are often the key to securing trust among vulnerable populations and translating that trust into action where individuals who previously have had no oral health home choose to access much-needed oral health services, improving those individuals' overall health."
Anne Weeks, president of the northeast region at LIBERTY Dental Plan, said that the dental benefits administrator granted the students full-tuition scholarships.
"We believe in empowering our communities by investing in the people we serve," Ms. Weeks said. "This program is important for New Jersey residents because it bridges the gap between the medical and dental fields with needed public health and care coordination skills for our dental professionals."
One of the graduates was Dorinda C. Priebe, who works with the Maine Center for Disease Control and Prevention to serve rural and underserved school children as a dental hygienist.
"I came to an understanding of public health that I was previously unaware," Ms. Priebe said. "CDHCs are essential for communities to bridge the gap between disease and achieving health. A CDHC can take the time needed to assist an individual or family in connecting with the care required to move from the disorder of disease to the peace of taking steps forward toward health and independence."
Ms. Priebe said CDHCS can bridge the gap between dental and medical services.
"The body-mouth, or total-body-health relationship, has been the focus of my entire career," she said. "CDHCs have a unique niche in staging community or individual health interventions that result in a greater awareness of health conditions leading to positive changes in health care decision making. This ultimately results in healthier populations."
Sherry Laliberte, a dental hygienist and program manager with the Maine Center for Disease Control and Prevention's School Oral Health Program, was another graduate.
She lauded the program.
"It has taught me a great deal about project planning and implementation, strategic planning and teamwork/collaboration with those outside my network," she said.
"I was honored to be invited to attend the graduation," said Bonnie T. Stanley, D.D.S., dental director of New Jersey's publicly funded health insurance program NJ FamilyCare. "I have a keen awareness of the gaps that currently exist between dental providers and our members in communicating and understanding as well as an appreciation for how CDHCs can work with both to close these gaps and have a positive influence on behavior and treatment outcomes."
Zufall's CDHC class of 2023 began their studies on Sept. 20.