Catch a rising star: Speakers on the Rise offer CE on emerging topics in dentistry
Five up-and-coming speakers, chosen from a competitive pool of applicants, will lecture at SmileCon 2022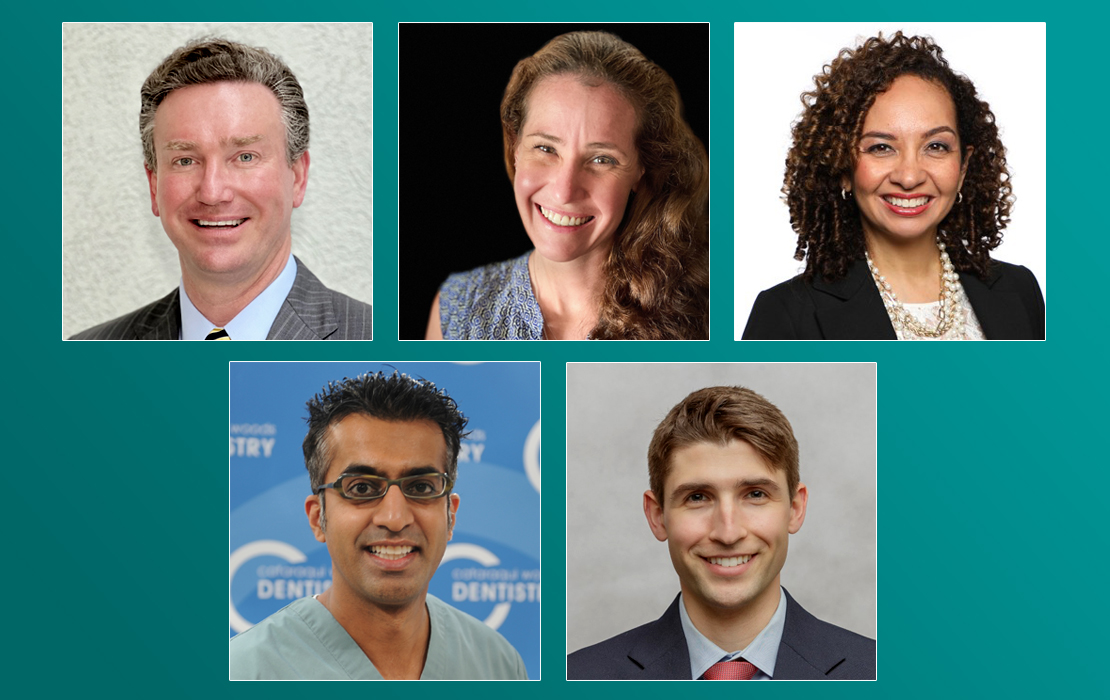 For a fast-paced, entertaining continuing education opportunity featuring the latest rising star speakers in dentistry, sign up to attend one or more Speakers on the Rise courses.
These five up-and-coming speakers, chosen from a competitive pool of applicants, will lecture in Dental Central's Smile Zone A, Stage 1 (except where noted) on diverse topics, including implant-supported removable prosthetics, suicide risk and prevention in dentistry, sustainable dentistry, mentorship and spa dentistry.
Waji Khan, D.D.S., a dental surgeon in Kingston, Ontario, Canada, will present "Implant Supported Removable Prosthetics: STRATEGY and STRUCTURE for SUCCESS!!," Oct. 13, from 10-11 a.m. Dr. Kahn's course will focus on implant treatment options for edentulous and partially edentulous patients looking to augment retention and stability of their dentures, including five questions to ask every dental implant patient, five contraindications to fixed implant prosthetics and three ways implants can make removable prostheses better. (5134)
Christina Noelle Schwarz, D.D.S., an avid suicide prevention and mental health advocate, will present "Exploring the Myths and Realities of Dentists and Suicide," Oct. 13, from 2:30-3:30 p.m. at Smile Zone A, Stage 2. Dr. Schwarz, a candidate for a master of clinical psychology degree at Pepperdine University as well as a master of suicidology at Griffith University Australia, will discuss today's leading theories of the suicidal mind as well as the current suicide statistics in dentistry. She will also focus on what individuals can do to protect their own mental well-being, as well as the mental health of colleagues and students in the profession. (5135)
Evan J. Fry, D.M.D, a private practice dentist in South Elgin, Illinois, will present "Sustainability in Dentistry: Good for the Planet and Your Practice," on Oct. 14, from 10-11 a.m. Dr. Fry will describe key sustainability issues in dentistry, provide an overview of public perception of sustainable business practices and corporate responsibility and cover how to implement procedures to improve a practice's carbon footprint and bottom line. (6136)
Laila Hishaw, D.D.S., founder and president of Diversity In Dentistry Mentorships, Inc. and a private practice pediatric dentist in Tucson, Arizona, will present "Elevating Dentistry Through Mentorship," Oct. 14, from 2:30-3:30 p.m. Dr. Hishaw will discuss how a diverse dental workforce can increase access to care and improve oral health outcomes, explore ways mentorship can be a tool for increasing enrollment of historically underrepresented minority students in dental school and provide action steps that mentors can use to connect with their mentees. (6135)
George K. Camp, D.D.S., a private practice dentist in Bluffton, South Carolina, will present "Spa Dentistry: Keys to Building Your Unique Dental Spa," Oct. 15, from 2:30-3:30 p.m. Dr. Camp, who currently runs a salon, spa and dental practice under one roof, will discuss how to add insurance-independent procedures that patients desire, create revenue streams that don't require chair time and list spa features that can be incorporated immediately. (7131)
Each Speakers on the Rise course earns one hour of CE credit and fees are included with the Dental Central Pass, Smile Pass and Platinum Smile Pass. To learn more about the aforementioned courses, visit the Agenda Builder or register at SmileCon.org.