Concentration camp survivor leads remarkable life dedicated to his profession of dentistry
Surgical wing, scholarship fund named in his and wife's honor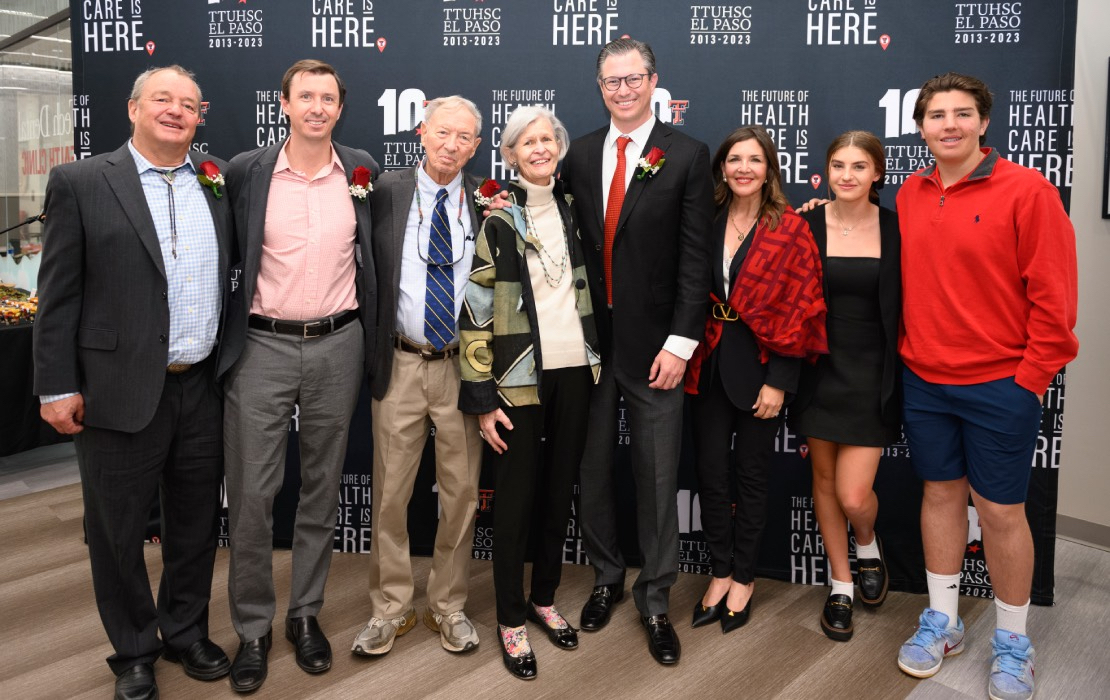 Terezin was a Nazi concentration camp 30 miles north of Prague during World War II. 
More than 150,000 Jews were sent there, including 15,000 children, and held there for months or years, before being sent by rail transports to their deaths at Treblinka and Auschwitz in occupied Poland, as well as to smaller camps elsewhere.
Fewer than 150 children survived.
One of those who survived was Thomas Spier, D.D.S., who overcame the atrocities his family endured and went on to a career serving the underserved throughout New Mexico.
Dr. Spier and his wife of 48 years, Hendrika, were present on March 20 for a ceremony that established the Hendrika and Thomas Spier, D.D.S., Family Dental Surgical Wing at the Texas Tech Dental Oral Health Clinic located on the Texas Tech University Health Sciences Center El Paso campus.
"It is amazing how dentistry and dental education have changed since my graduation in 1959," Dr. Spier told ADA News after the ceremony. "To see our names on the wall of the school brought tears to my eyes as did the welcome we received."
Scholarship gift
The naming ceremony came in tandem with the announcement of the Spier Family Dental Scholarship Fund, created by Dr. Spier's family and friends. The scholarship funds, earmarked for students at TTUHSC El Paso's Hunt School of Dental Medicine and established as a part of the family's celebration of Dr. Spier's 90th birthday in 2021, gives priority to incoming dental students from New Mexico, the Spiers' home state.
"We're grateful to the Spier family for their generosity," said Richard Black, D.D.S., dean of the Hunt School of Dental Medicine. "Their support will allow us to educate more students from our neighboring state of New Mexico, which also faces a significant shortage of dentists. By providing talented students with the opportunity to learn and train locally, we're growing our own future generation of dentists who will remain in our Borderplex region to practice. This, in turn, will help New Mexico patients receive the care they need to maintain good oral health."
The Hunt School of Dental Medicine opened in 2021 and is the only dental school on the U.S.-Mexico border, and the first in Texas to open in more than50 years. Before it opened, the nearest doctoral-level dental schools New Mexico students could attend were A.T. Still University in Mesa, Arizona, or the University of Colorado in Aurora, Colorado.
Accomplished
Liberated by the Soviet army after two years of internment, Dr. Spier emigrated to America with his Dutch mother and sister in 1952. His father and his older brother had previously arrived in 1951.
Despite speaking limited English, he graduated from Adelphi College with a B.A. in pre-medical studies, accomplishing this in just two-and-a-half years. Dr. Spier went on to graduate from Columbia University's College of Dental Medicine, known then as the Columbia University School of Dental and Oral Surgery.
In 1959, with his first wife and 1-year-old daughter, Dr. Spier moved to New Mexico to serve a two-year tour of duty with the United States Public Health Service to provide care to Native American communities throughout northern New Mexico — from San Felipe Pueblo in the south to Taos Pueblo in the north. He mostly treated children.
His clinic was a mobile bumper-pull Winnebago trailer, complete with a barber's chair, electric dental drill powered by extension cord and water via a hose that Dr. Spier hooked up anywhere he could.
"Pueblo Indians gave me confidence and experience as a dentist and taught me so much about human relations, which has benefited me in my career and life so much," Dr. Spier said.
After completing his Public Heath Service commitment in 1961, Dr. Spier went into private practice in Santa Fe, extending his commitment to underserved patients throughout his career, including becoming president of the New Mexico Dental Association in 1972.
Inspiration
"We hope the deserving students who receive these scholarships will continue building on the tradition of delivering world-class patient care, improve the quality of life in the region, and be inspired by our father to excel in a career of service and dentistry," said Peter A. Spier, one of Dr. Spier's children who initiated and shepherded the effort to create the scholarship fund that is now over $110,000.
Moved by their loved ones' generosity, Dr. Spier and Hendrika contributed an additional $10,000 to the scholarship fund.
"The naming of the dental surgical wing pays homage to a remarkable couple," said Mr. Spier. "The scholarship fund recognizes my father's achievements forged by his disciplined work ethic, professionalism, love of the practice and the art of dentistry, which improved health care for communities in Northern New Mexico throughout his 41-year career."
"Do I believe that my life will inspire young dental students?" Dr. Spier asked himself. "I hope my life will somehow, somewhere, sometime help a student or someone because all of us have or will have difficult periods in our lives. As you see, miracles happen, by luck, hard work and a little prayer," he said.
For more information on how to make a contribution to the Spier Family Dental Scholarship Fund, contact Andrea Tawney, vice president of TTUHSC El Paso's Office of Institutional Advancement, at  andrea.tawney@ttuhsc.edu .