May JADA looks at oral surgery risks in patients undergoing long-term glucocorticoid therapy
Study finds administering supplemental glucocorticoids before procedures unnecessary if underlying medical conditions stable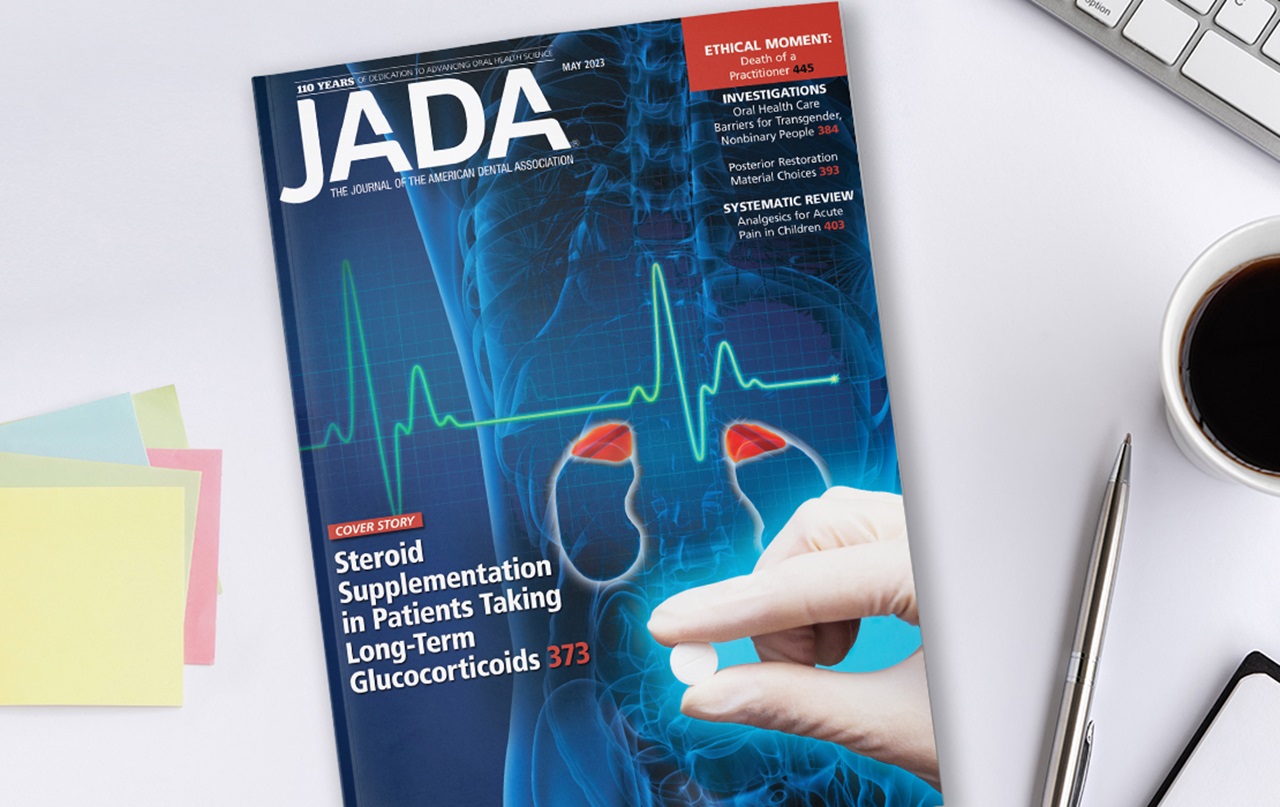 Patients undergoing long-term glucocorticoid therapy are commonly administered additional glucocorticoids before minor oral surgery, but this practice appears unnecessary for those whose underlying medical conditions are stable, according to a study published in the May issue of The Journal of the American Dental Association.
During times of surgical stress, patients undergoing long-term glucocorticoid therapy may have an increased cortisol requirement, and if that additional demand is not met, an adrenal crisis can occur that manifests as acute hemodynamic instability. However, the risk of adrenal crisis during dental procedures among patients with secondary adrenal insufficiency has been estimated to be low, according to the study.
The May cover story, "Steroid Supplementation Before Minor Oral Surgical Procedures in Patients Taking Long-Term Glucocorticoids: A Triple-Blinded, Randomized, Placebo-Controlled Trial," looked at changes in hemodynamic parameters and frequency of adverse events among 270 patients undergoing minor oral surgical procedures.
The researchers divided the patients into three groups: those taking long-term glucocorticoids who were given supplemental glucocorticoids before their procedures, those taking long-term glucocorticoids without supplemental glucocorticoids, and those not undergoing long-term glucocorticoid therapy.
Among the three groups, the researchers found no clinically relevant changes in hemodynamic parameters, as well as low periprocedural adverse events, such as loss of consciousness, seizure, dizziness and vomiting.
"We found that when underlying medical conditions are stable, we can perform minor oral surgery with only the usual daily dose of [glucocorticoids]," the authors said in the study. "Our results are consistent with earlier case series and observational studies; it is safe to carry out simple surgical procedures without [glucocorticoid] supplementation among patients undergoing [long-term glucocorticoid] therapy for indications other than primary adrenal insufficiency when the patient's medical conditions [are] optimized."
Other articles in the May issue of JADA discuss oral health care barriers for transgender and nonbinary people, posterior restoration material choices, and analgesics for acute pain in children.
Every month, JADA articles are published online at JADA.ADA.org in advance of the print publication. ADA members can access JADA content with their ADA username and password.