Oral surgeon, staff save man's life with CPR, AED
'My team and I are good people first and ready to respond as any Good Samaritan would'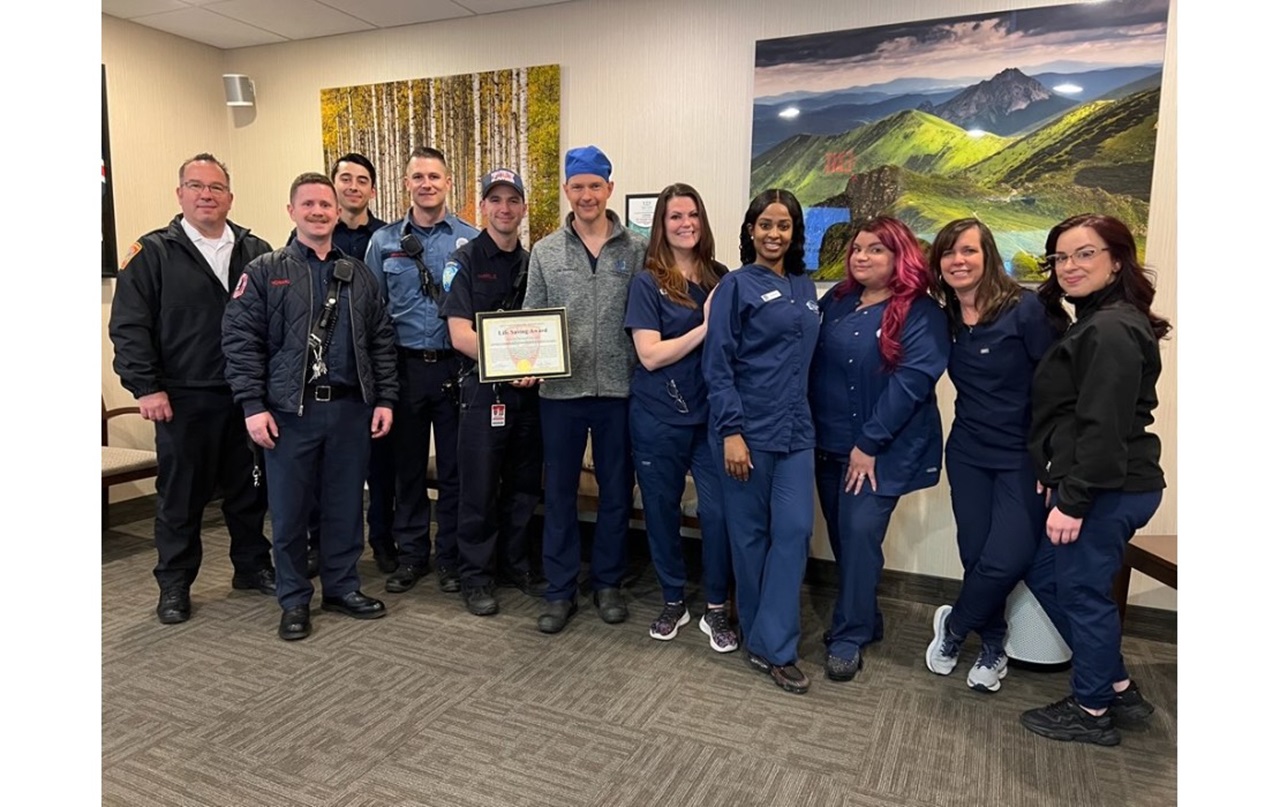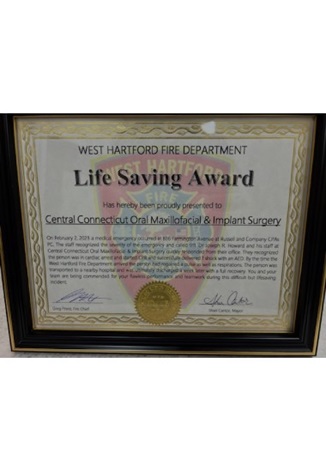 Picture of Life Saving Award
On the morning of Feb. 2, an accountant employed at a firm inside the Armory Building in West Hartford, Connecticut, collapsed and turned blue.
Lucky for him, Central Connecticut Oral Maxillofacial & Implant Surgery was right across the hall.
"My team and I are good people first and ready to respond as any Good Samaritan would," said Joseph Howard, D.D.S., M.D., oral surgeon and owner of Central Connecticut Oral Maxillofacial & Implant Surgery.
Dr. Howard and his employees are all CPR-certified and trained on how to use an AED, short for automated external defibrillator, used to help those experiencing cardiac arrest.
When someone from the accounting firm sped into the practice's office pleading for help that morning, Dr. Howard and his staff leapt into action.
Dr. Howard and two oral surgery assistants from his practice, Amanda Sampson and Meghan Grondin, started CPR and then using the office's automated AED from their office to deliver a shock.
By the time West Hartford Fire Department firefighter paramedics responded, the accountant had a pulse and was breathing.
The paramedics took the patient to Hartford Hospital, and a week later he was discharged and is expected to make a full recovery, Dr. Howard said.
Dr. Howard said it was natural for him to react.
"Many of us went into dentistry to help people," he said. "We all remain vigilant and prepared that if a patient in our office, or even in our building, has cardiac arrest, we are prepared to help. Many of us will go our career and never need to use it. But if the situation ever presents itself, it's important to be able to respond to the emergency, do the right thing and save a life."
The West Hartford Fire Department presented Dr. Howard and the staff of Central Connecticut Oral Maxillofacial & Implant Surgery with the Life Saving Award on March 30.
West Hartford Fire Department Chief Greg Priest commended Dr. Howard and his team for their efforts in saving a life. 
"While each link in the American Heart Association's 'Chain of Survival' is critical, in this incident, Dr. Howard and his team's quick actions with initiating CPR and using an AED are to be credited with having the most impact," he said in a statement to ADA News. "Had he not been willing to intervene and bring his medical expertise to the table quickly and efficiently, the outcome would likely not have been as positive. Jumping into action in an emergency requires a certain type of person and we are humbled and honored to have folks like Dr. Howard and his team in our community."
Dr. Howard said he is using the experience as an opportunity to encourage dentists to have an AED in their offices and have their staff CPR-certified.
"Cardiac arrest is still a leading cause of death in the United States," Dr. Howard said. "You never know when or where this is going to happen.  We have an obligation as health care providers to be prepared and equipped to manage. I feel fortunate to have been given the opportunity to exercise my skills to do the right thing, and to have been impactful in the moment, as I am certain that all dentists would have done."