CDT 2024 ships Sept. 13
Code, which goes into effect on Jan. 1, 2024, includes new category for sleep apnea services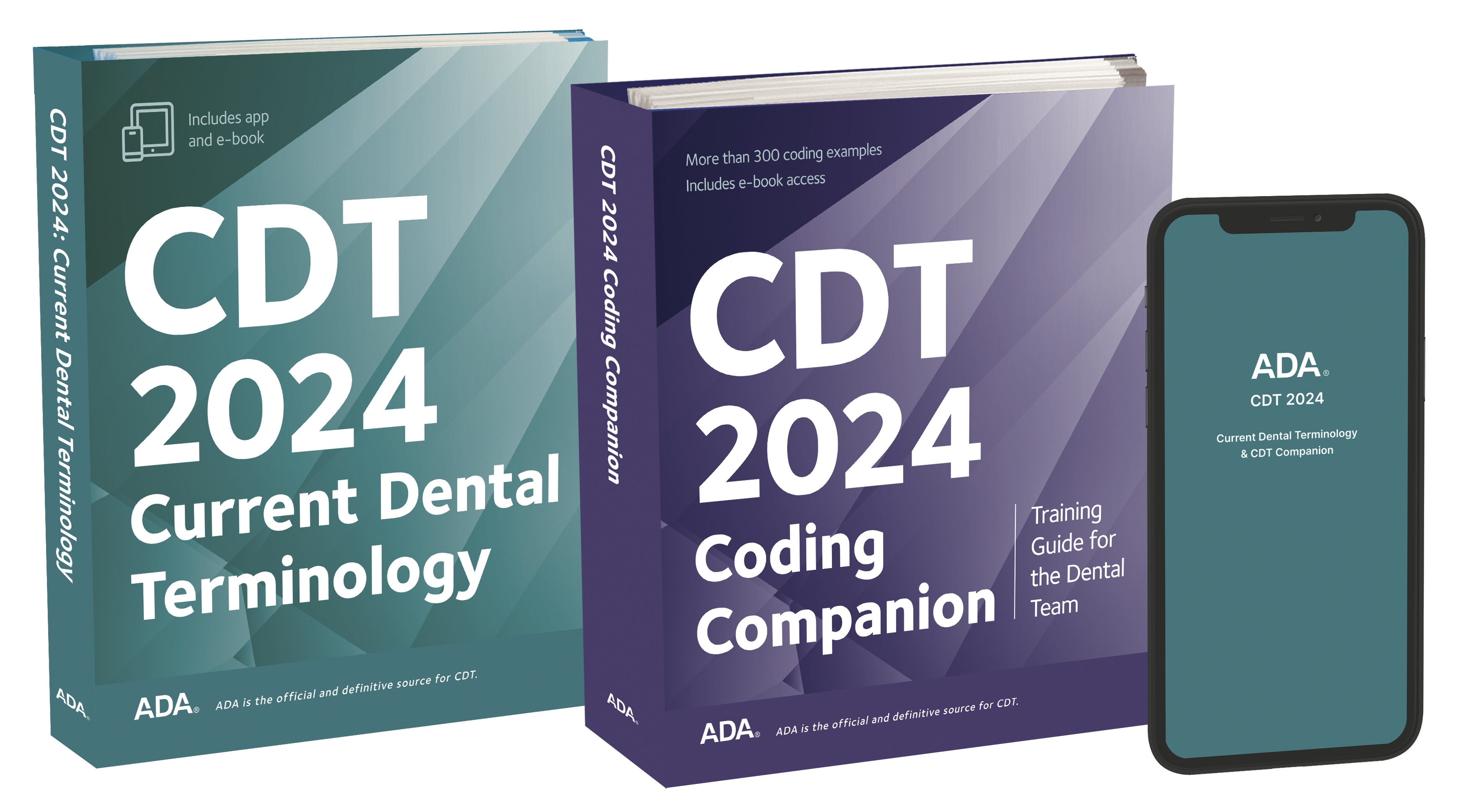 The CDT 2024: Current Dental Terminology kit will ship Sept. 13 and is available for pre-order at the ADA Store.
The kit includes all the up-to-date and accurate information on this year's codes and a training guide for how to use them to prevent coding errors and receive prompt reimbursement.
The CDT 2024 and Coding Companion Kit also provides access to the CDT 2024 App and e-book.
Changes to the Code feature 15 additions, including a new category for sleep apnea services, and two revisions. These CDT 2024 changes go into effect on Jan. 1, 2024.
Among the 15 additions approved by the Code Maintenance Committee at its March meeting are four new codes that reflect ADA policy on the role of dentistry in the treatment of sleep apnea.
The codes include sleep apnea procedures such as screenings and home sleep apnea tests, as well as fabrication, delivery and titration of oral appliance therapy devices. These codes expand upon the current CDT codes for custom sleep apnea appliance delivery, adjustment and repair procedures, and are found in the new Sleep Apnea Services category.
The CMC also approved a code for immunization counseling, which is described as a review of a patient's vaccine and medical history and discussion of the vaccine benefits, risks and consequences of not obtaining it.
Other code additions approved at the March meeting for CDT 2024 concern the following procedures:
• 3D printing of a 3D dental surface scan.
• Band stabilization — per tooth.
• Excavation of a tooth resulting in the determination of non-restorability.
• Application of hydroxyapatite regeneration medicament — per tooth.
• Accessing and retorquing loose implant screw — per screw.
• Excisional biopsy of minor salivary glands.
• Indexing for osteotomy using dynamic robotic assisted or dynamic navigation.
• Fabrication and placement of a custom removable clear plastic temporary aesthetic appliance.
The CMC also approved clarifying revisions of two existing codes:
• D2335 resin-based composite restoration — four or more surfaces (anterior).
• D5876 add metal substructure to acrylic, full denture (per arch).
Educational and reference information on CDT Code use is available at ADA.org/en/publications/cdt/coding-education.
Save 15% on ADA Store products by using the promo code 23112 by Nov. 30.