ADASRI scientists to share studies on dental materials, oral cell biology
American Association for Dental, Oral, and Craniofacial Research Annual Meeting and Exhibition to take place March 15-18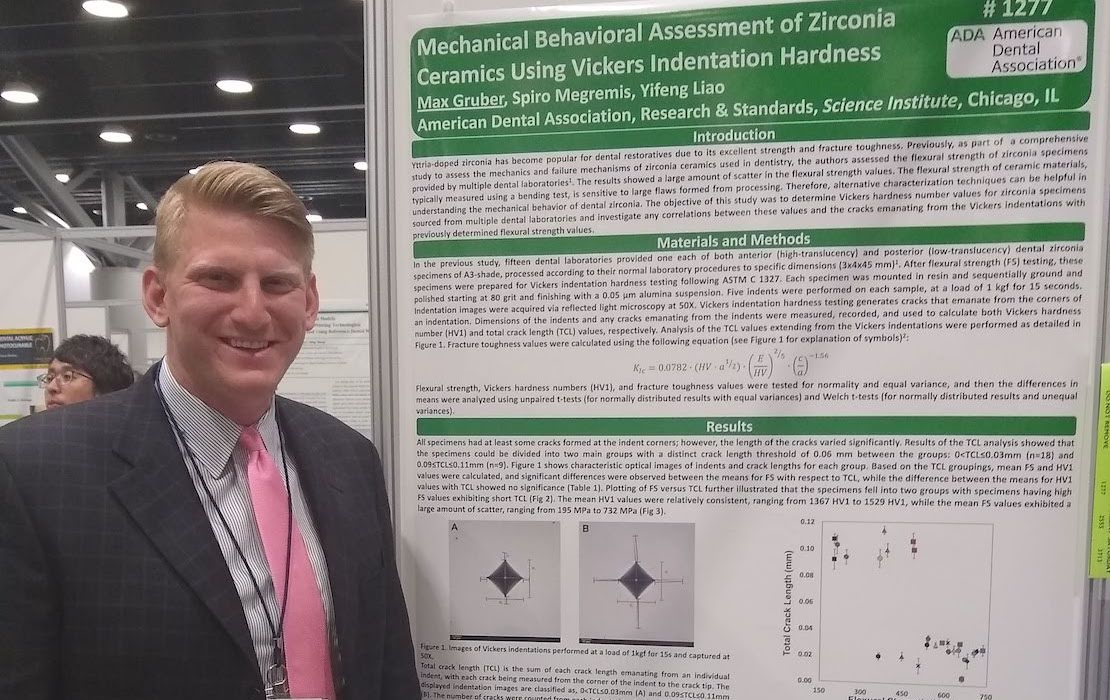 Scientists from the American Dental Association Science & Research Institute will share their research at the 52nd Annual Meeting and Exhibition of the American Association for Dental, Oral, and Craniofacial Research.
The conference will take place March 15-18 in Portland, Oregon, in conjunction with the 47th Annual Meeting of the Canadian Association for Dental Research. ADASRI is a 2023 AADOCR/CADR Silver Scientific Session Sponsor of the meeting.
Research presented by ADASRI scientists will include the following 18 abstracts:
"Additive Manufacturing of Yttria-Doped Zirconia Using Vat-Polymerization," presented by Yifeng Liao, Ph.D., senior principal scientist.
Bridging the Gap: Challenges and Opportunities for Next-Generation Precision Oral Medicine," presented by Kevin Byrd, D.D.S., Ph.D., senior manager and Anthony R. Volpe Research Scholar.
"Composition and Crystallinity of Carbonate- and Sodium-Substituted Hydroxyapatite," presented by Shozo Takagi, Ph.D., emeritus scientist.
"Dental Practice Needs-Based Standards Development: Materials for Clear Aligners," presented by Spiro Megremis, Ph.D., director.
"Establishing a Clinically Relevant In Vitro Cytotoxicity Model for Denture Adhesives," presented by Yukiko Koizumi, D.D.Sc., Ph.D., senior research associate.
"Fluorapatite with Tailored Amounts of Carbonate and Sodium Incorporation," presented by Laurence Chow, Ph.D. emeritus chief research scientist.
"Immunophenotyping of Pediatric Crohn's Disease Using Transmigratory Salivary Immune Cells," presented by Theresa Weaver, research associate.
"Impact of Toothbrushing in People with Type 2 Diabetes," presented by Ruth Lipman, Ph.D., senior director.
"Keratinocyte Subpopulations within Gingival Epithelia Display Sentinel and Immunomodulatory Characteristics," presented by Quinn Easter, Ph.D., senior research associate.
"Kinetics of Fluoride Release Deposited by Experimental FCP Rinses," presented by Stanislav Frukhtbeyn, senior research associate.
"Method to Evaluate Blue-Light Protective Filtering Devices for Light-Curing Units," presented by Henry Lukic, senior research associate.
"Microstructural Characterization of Thermally Treated Fluorapatite-Titanium Composites," presented by Eaman Karim, Ph.D., senior scientist.
"Mortality Rates in US Dentists, 2008–2020," presented by Cameron Estrich, Ph.D., manager.
"One-Minute Fluoride Release and Cytotoxicity of Charcoal-Containing Fluoride Dentifrices," presented by Ashley Bowers, research associate.
"Oral Niches Self-Direct Distinct Immune Cues during SARS-CoV-2 Infection," presented by Bruno Matuck, D.D.S., Ph.D., postdoctoral research assistant.
"Patterns of Posterior Dental Restorations in Privately Insured Americans," presented by Laura Eldridge, research associate.
"Protein-Repellent Dental Adhesive Containing Sulfobetaine Methacrylate," presented by Xiaohong Wang, Ph.D., senior scientist.
"Tensile-Strength Testing of Materials Used to Produce Orthodontic Sequential Aligners," presented by Raquel Miera, research scientist.
In addition, Dr. Lipman and Marcelo Araujo, D.D.S., Ph.D., ADASRI CEO and ADA chief science officer, have organized a meeting symposium titled "The Two-Way Street Running between Research and Clinical Practice." Dr. Araujo will chair the symposium, with talks presented by Drs. Byrd, Estrich, Lipman and Megremis.
Simone Duarte, D.D.S., Ph.D., senior director, will give a talk titled "Early Academic Career Trials and Embracing Career Shifts" as part of the Women in Science Network symposium "Bridging the GAP!"
ADASRI will also host a reception following the opening session, as well as a booth in the meeting's exhibit hall.