February webinar stresses importance of waterline safety
Presenter of Feb. 16 live stream is author of revised edition of ADA Practical Guide to Effective Infection Prevention and Control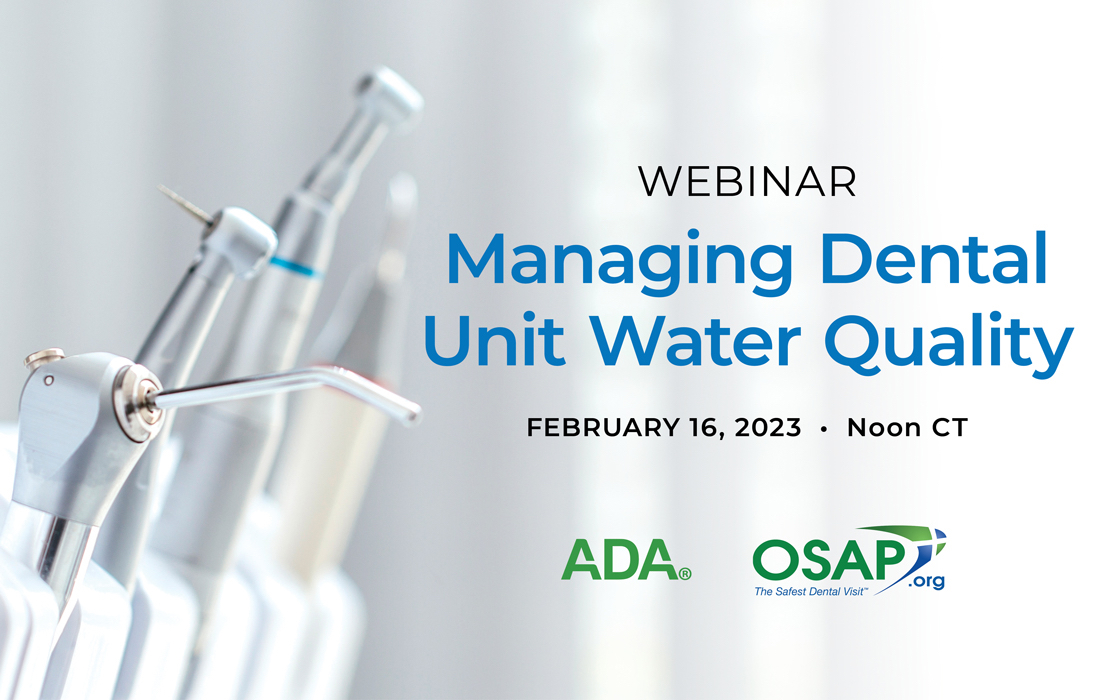 The ADA is collaborating with the Organization for Safety, Asepsis and Prevention to present a free one-hour webinar in February on the importance of waterline safety in light of recent outbreaks of pediatric mycobacterial infections associated with dental treatment.
Managing Dental Unit Water Quality  streams from noon-1 p.m. Central on Feb. 16 and is eligible for one hour of continuing education credit.  For those who are unable to attend the live stream webinar, a recording will be made available on ADA CE Online at a later date.
The presenter is Shannon E. Mills, D.D.S., former board chair of OSAP and author of  The ADA Practical Guide to Effective Infection Prevention and Control, Fifth Edition , revised in 2022.
Manny Chopra, D.M.D., chair of the ADA Council on Dental Practice, said that Dr. Mills will outline recommendations and best practices to help avoid contamination of dental equipment water delivery systems that could lead to opportunistic infections.
"Attendees will hear how the design of dental equipment encourages the growth of biofilm attached to the walls of waterlines," Dr. Chopra said. "Further, Dr. Mills will describe ways to reduce bacterial colonization with specific reference to dental water quality  guidance  issued by the Centers for Disease Control and Prevention."
An Oct. 31, 2022, health  alert  from the CDC reported it was investigating a cluster of suspected nontuberculous Mycobacteria infections in children at an undisclosed location.
More information can be found in the ADA's Guidelines for Practice Success: Managing Regulatory  article  on dental unit water lines.