ADA releases new clinical practice guideline on caries restorations
Expert panel advises conservative approaches may decrease risk of adverse effects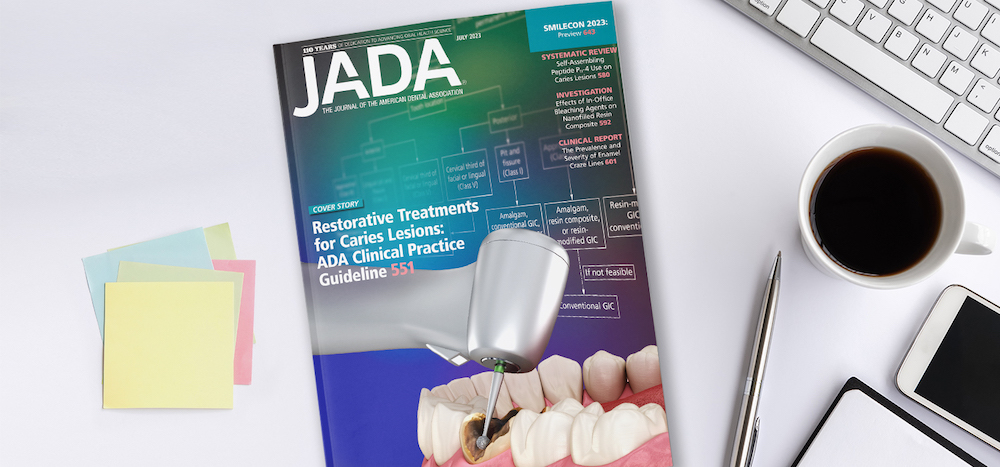 The American Dental Association has released a new clinical practice guideline on restorative treatments for caries lesions that suggests more conservative approaches to removing carious tissue may decrease the risk of adverse effects.
The guideline, published as the cover story of the July issue of The Journal of the American Dental Association, includes 16 recommendations for the treatment of moderate and advanced caries lesions in primary and permanent teeth that have not received endodontic treatment.
The recommendations identify selective carious tissue removal as an effective treatment option in most cases of moderate and advanced caries in primary and permanent teeth. The guideline also affirms the efficacy of the most common restorative materials for treating moderate and advanced caries and suggests specific materials for primary and permanent teeth depending on the extent of the decay.
This is the second guideline in a series of clinical practice guidelines on caries treatment developed by the ADA Council on Scientific Affairs and ADA Science & Research Institute, which convened a panel of experts to review the best-available scientific evidence on treatments and materials. The group previously published a systematic review in the February issue of JADA that found general equivalence among restorative materials and helped to inform this guideline.
The recommendations are meant to assist clinicians in making restorative choices with their patients, but the guideline notes dentists should use clinical judgment to determine when the recommended course of action may not be appropriate, warranting deviation from these recommendations.
The guideline's lead author, Vineet Dhar, B.D.S., Ph.D., said the recommendations encapsulate restorative dentistry's two main objectives: maintaining healthy tooth structure and protecting the soft tissue inside the tooth.
"While research had already confirmed that selectively removing decayed tissue is an effective approach to treating early tooth decay, dentists needed an evidence-based guideline to provide them with a range of treatment choices for patients with moderate to advanced tooth decay," said Dr. Dhar, the chair of orthodontics and pediatric dentistry at the University of Maryland School of Dentistry and a member of the ADA Council on Scientific Affairs. "These recommendations can now inform restorative care strategies in the U.S. and on a global level."
The new guideline on restorative treatments for caries lesions and the previously released guideline on nonrestorative caries treatments are available at ADA.org/cariesguidelines.
Other articles in the July issue of JADA discuss self-assembling peptide use on caries lesions, effects of in-office bleaching agents on nanofilled resin composite, and the prevalence and severity of enamel craze lines.
Every month, JADA articles are published online at JADA.ADA.org in advance of the print publication. ADA members can access JADA content with their ADA username and password.