Teledentistry poised for vivid future
Advances in technology extend reach of dentistry since onset of pandemic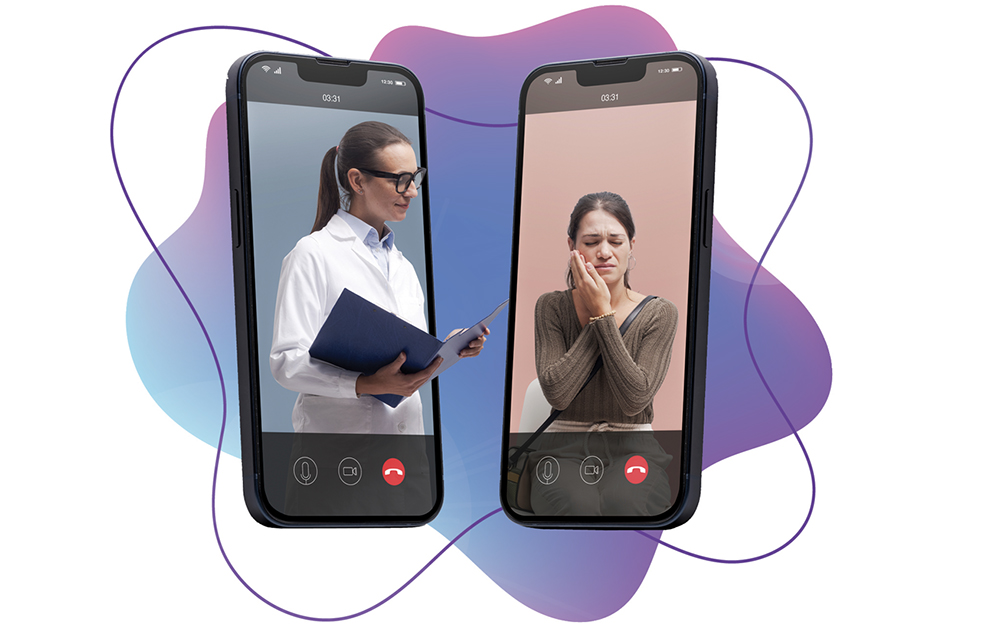 While in-person examination has historically been the most direct way to provide care, advances in technology can extend the reach of dentistry, increasing access to care by reducing the distance to the dentist.
Case in point: teledentistry.
"Teledentistry has been a game-changer for the dental industry during the pandemic," said Nathan Suter, D.D.S., chief innovation officer for Enable Dental. "It has allowed for continuity of care and access to patients in need, even when in-person visits were not possible."
As he looks to the future, Dr. Suter believes that teledentistry will continue to play a role in expanding access to care for patients who live in remote locations, have mobility issues or disabilities and for dentists who want to expand their care.
"Technological advancements such as artificial intelligence and machine learning will also help to expand the capabilities of teledentistry, such as efficient data entry, automated processes, remote diagnosis and treatment planning," he said.
Benefits realized
A visual report from the CareQuest Institute for Oral Health in 2021 explores reasons why it believes teledentistry is here to stay. Key points include:
During a crisis — whether it be an infectious disease outbreak or natural disaster — teledentistry will help ensure that people do not lose access to care.
Teledentistry can reduce costs. In one study, patients with at least one teledentistry visit cost 10% less than dental patients who didn't use teledentistry.
Patients are embracing teledentistry: in a 2020 CareQuest Institute survey, 86% of patients said they were satisfied with their overall teledentistry experience.
Teledentistry can reduce the number of visits to hospital emergency departments.
ADA policy reflects its belief that teledentistry can increase access to care: "The ADA believes that examinations performed using teledentistry can be an effective way to extend the reach of dental professionals, increasing access to care by reducing the effect of distance barriers to care."
The ADA, which first adopted policy on teledentistry in 2015, updated its teledentistry policy within the first year of the pandemic. The updated policy, passed by the 2020 House of Delegates, noted that "teledentistry has the capability to expand the reach of a dental home to provide needed dental care to a population within reasonable geographic distances and varied locations where the services are rendered," and that "in order to achieve this goal, services delivered via teledentistry must be consistent with how they would be delivered in-person."
It goes on to say examinations and subsequent interventions performed using teledentistry "must be based on the same level of information that would be available in an in-person environment," and stresses that "it is the legal responsibility of the dentist to ensure that all records collected are sufficient for the dentist to make a diagnosis and treatment plan."

The resolution also stated that dental insurers — both public and private — should cover services provided through teledentistry at the same level as if the services were delivered in a traditional face-to-face encounter.
ADA swiftly adapts
Since the onset of the pandemic, the ADA has continued to keep teledentistry and its capabilities front and center.
The Code Maintenance Committee, convened by the ADA Council on Dental Benefit Programs and responsible for updating the ever-evolving CDT Code, recognized the expanded use of teledentistry by approving several new codes related to the practice since the pandemic began.
CDT 2018 marked the addition of codes (D9995 and D9996) for documenting and reporting the two types of teledentistry scenarios a dentist can play a part in – one where data is collected and addressed in real-time, and the other where data is collected, stored and forwarded to be addressed at another time and location.
In 2020, nine new diagnostic imaging codes relevant to patient care delivered through teledentistry were approved. The new codes were for radiographic and photographic image capture-only procedures, which have the greatest applicability in teledentistry encounters where a locally licensed practitioner captures images that are forwarded to a dentist for interpretation. The dentist then reports interpretation separately with its own CDT code.
In May, the American Dental Association Standards Committee on Dental Informatics approved a technical report on teledentistry for circulation and comment.
Proposed ADA Technical Report No. 1112 for Teledentistry provides information on the informatics aspects of the evolving field of teledentistry to assist dental providers in determining goals, selecting components and creating working systems.
The report also contains an adoption guide designed to assist providers who are considering incorporating teledentistry into their practices or practice systems in making decisions about how they will use teledentistry, what arrangements they need to make, what hardware and software choices they could consider, and how they could organize a system that includes teledentistry as one of its components.
The draft report and comments template can be downloaded from ADA.org/aipreview.
The ADA's policy on teledentistry has evolved with the times, as well.
The ADA policy statement on teledentistry was amended by the 2021 House of Delegates to avoid a potential conflict with the ADA Principles of Ethics and Code of Professional Conduct. The Code indicates that it is unethical to abandon a patient who is undergoing a course of treatment.  
However, in certain instances, the ADA Council on Ethics, Bylaws and Judicial Affairs believed the teledentistry policy adopted in 2020 could have led to the abandonment of patients undergoing treatment.

According to the council, the conflict between the 2020 teledentistry policy and the Code put the dentist in an untenable situation — either the dentist ignored the teledentistry policy in favor of proceeding in accordance with the guidance of the Code, or ignored the ethical guidance of the Code and adhered to the 2020 teledentistry policy.

Amendments submitted by CEBJA and passed by the House of Delegates in Resolution 86H-2021 resolved that conflict.
Dentists' perspectives
Teledentistry has proven to be efficient and effective for dentists like Jane Gillette, D.D.S., former chair of the ADA Council on Advocacy for Access and Prevention as well as currently a state legislator in Montana.
Montana's wide-open spaces feature places where dental care often isn't as accessible. Dr. Gillette related stories on how teledentistry has helped her reach Head Start children, as well as other instances on how where some her colleagues use teledentistry to reduce health disparities in remote parts of the state.
Kyle Gernhofer, D.D.S., is the co-founder and CEO of DenScore, a web application that provides automated treatment decision support and care navigation to help users make decisions about their dental care needs. 
The majority of people use DenScore's app after hours when they need help and can't reach a dentist or dental insurance plan, Dr. Gernhofer said. DenScore users also have the option of scheduling a teledentistry exam with teledentistry.com, he said.
"Bringing awareness to teledentistry and the various ways it can benefit our users is another way we help people navigate dental care," Dr. Gernhofer said.
The use of teledentistry will only expand, Dr. Gillette said.
"There are needs in lots of places," she said.