Virtual reality simulators help students feel their way from preclinical study to clinical experience
Simulators adapt to course and patient-specific needs, provide instant feedback for students and faculty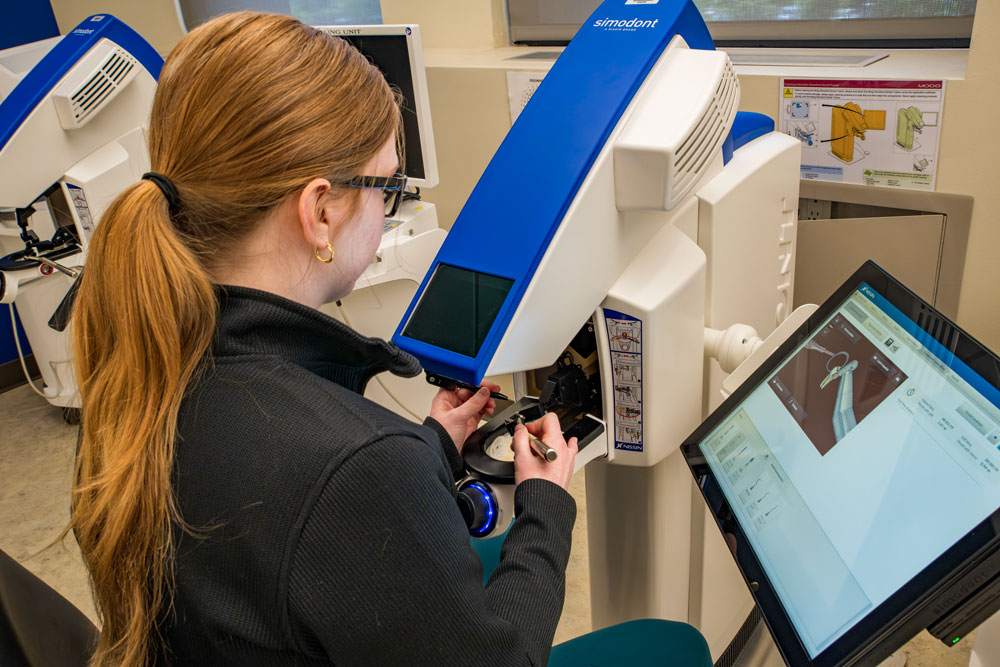 Dental schools worldwide have been transitioning to high-tech education tools — virtual reality haptics simulators that enable students to get a real feel for what it's like to perform clinical procedures long before they treat a patient in the clinic.
The University of Connecticut School of Dental Medicine in Farmington, Connecticut, has been using virtual reality simulators as part of its curriculum since 2017, said Aadarsh Gopalakrishna, D.D.S., associate professor and chair of the division of general dentistry. Every student since then has used simulators that have been incorporated into multiple courses each year.
"At UConn, we have set up a dedicated advanced dental simulation lab with eight units and a dedicated teacher's station, which can monitor the virtual reality units," Dr. Gopalakrishna said. "Students have structured rotations during multiple preclinical courses, including restorative dentistry and cariology. Incorporating this into the curriculum along with traditional simulation labs gives them an upper hand to their preparedness and transitions into clinical care."
Some of the upsides to using haptic technology as first- and second-year students, he said, is that it allows students to work in a 3D situation that also gives them the actual feel of performing operative procedures — much like a flight simulator for airline pilots — giving them an interactive learning experience much closer to reality than a lecture course can.
"Students get the experience of this virtual reality technology very early on during the Year 1 preclinical operative course, which is crucial for developing manual dexterity skills," Dr. Gopalakrishna said. "We continue to use them in multiple courses throughout the predoctoral curriculum, including in Year 2 preclinical operative and caries management transitions during clinical operative."
The virtual reality simulators, Dr. Gopalakrishna explained, can be customized for different courses and procedures in preclinical learning and can also be programmed to help students develop treatment planning and diagnostic skills. The technology also permits faculty evaluation and feedback both synchronously and asynchronously.
"This is a good interactive teaching platform and keeps students engaged," Dr. Gopalakrishna said. "Students already have various exposures to virtual reality technology, mostly in the form of virtual reality games, and the initial responses are that they are very excited to see this technology in dentistry. The perception to cutting different layers of teeth is very well perceived and they appreciate having this technology. Overall, course feedback has been good relative to incorporating this in the course curriculum.
"One of the things I liked most about this experience is being able to actually feel caries," said third-year student Katherine Peccerillo. "Feeling the stickiness of caries is something you don't get to experience in pre-clinic and is very important to learn for clinic so I appreciated being able to feel the caries. I also really liked exposing the pulp on the simulated tooth. It made me aware of how careful you have to be when excavating caries close to the pulp on a patient."
Because virtual reality and robotics are already being used in many areas of health care, Dr. Gopalakrishna said, "it becomes even more important to have an early exposure in dental education. There are many technologies emerging in this area, and in the next few years, I foresee many developments and improvements in this field. In a nutshell, it's a good teaching adjunct parallel to traditional teaching. With this fast-emerging technology, I anticipate an extended use of this 3D teaching platform."
"Our students are also utilizing 3D virtual reality in the foundational biomedical sciences, including in virtual anatomy labs that are used to complement cadaveric exercises," said Steven M. Lepowsky, D.D.S., professor and dean at UConn.
The only limitation Dr. Gopalakrishna sees currently is that using a virtual reality simulator can't replace a traditional preclinical lab setting in that students are not learning how to set up their armamentarium or learning about maintenance of handpieces and other equipment, which is part of a traditional preclinical lab setup.
When Kansas City University College of Dental Medicine in Joplin, Missouri, celebrates the opening of its new dental school June 26 with a ribbon cutting ceremony, the school will have four virtual reality simulators in place for the start of classes on July 31 and four more on order that will be incorporated into the curriculum to help students learn clinical procedures, said Linda C. Niessen, D.M.D., professor and founding dean.
"The greatest benefit to using virtual reality simulators is enabling students to practice clinical procedures on their patients in a simulated environment prior to the students actually caring for patients," Dr. Niessen said. "It can increase the students' confidence when performing dental procedures on a patient."
Sharon M. Gordon, D.D.S., Ph.D., professor and associate dean for academic affairs and research at the KCU dental school, said she has worked with virtual reality simulators before.
"I know our students at KCU will find them beneficial for their learning as well as fun," Dr. Gordon said. "Students appreciate being able to work with the simulators to practice in advance of performing a complex procedure for their patients. They get faculty feedback on their preparation and can perform multiple repetitions until they and the faculty feel the student is prepared to provide the same procedure for their patient."
Although Dr. Niessen has not used virtual simulators in a dental school setting yet, she said using them "reflects the future of dental education. Dental education is transitioning and incorporating more technology into the process. Virtual reality simulation is just one of the technologies that we will see increasing in dental education. Our students have grown up playing video games. They are accustomed to a virtual world. Having the ability to learn dental procedures in this virtual world provides the potential for students to become better clinicians."