June JADA finds translucent cement impacts final restoration color less than opaque cements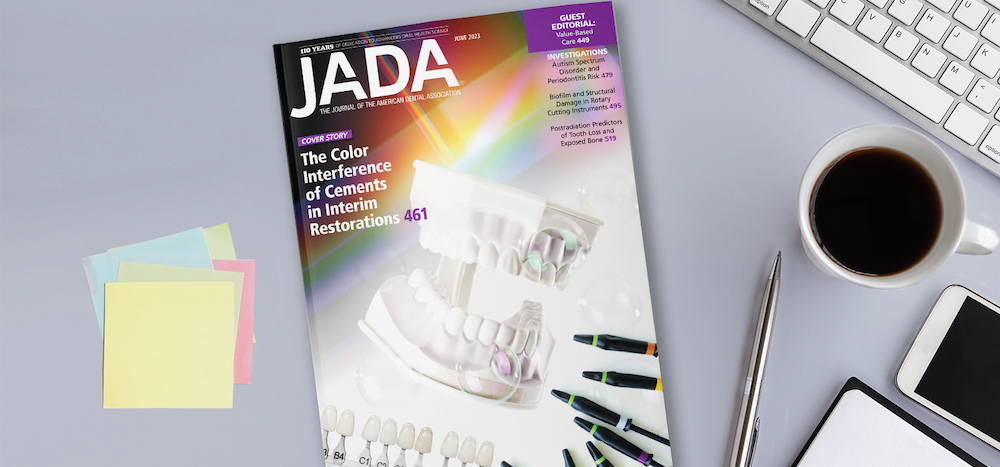 A highly translucent cement affected the final color of interim restorations less than opaque cements did in a study published in the June issue of The Journal of the American Dental Association.
The cover story, "Optical Properties of Esthetic Temporary Cements and Final Restoration Color," looked at the color interference associated with a new translucent cement and two conventional opaque cements and how the thickness and shade of the restorations impacted that interference as well.
"In anterior teeth, the esthetic quality of interim restorations is of great importance, and color matching should always be achieved," the authors said in the study. "For color matching, the first step is to select the proper color of the temporary restorative material on the basis of the shade of the adjacent teeth. However, it has been found that the final color of the cemented restorations depends not only on the restorative material but also on the translucency of the luting cement used."
The study found the opaque cements influenced the final color of the restorations more when the resin was thinner and lighter in color. The thickness and shade of the resin did not impact how the translucent cement affected the restoration color.
Other articles in the June issue of JADA discuss autism spectrum disorder and periodontitis risk, biofilm and structural damage in rotary cutting instruments, and postradiation predictors of tooth loss and exposed bone.
Every month, JADA articles are published online at JADA.ADA.org in advance of the print publication. ADA members can access JADA content with their ADA username and password.