ADA Foundation Give Kids A Smile Pack & Give Back Event prompts altruism among SmileCon volunteers
Attendees help assemble snack packs for 1,000 schoolchildren in central Florida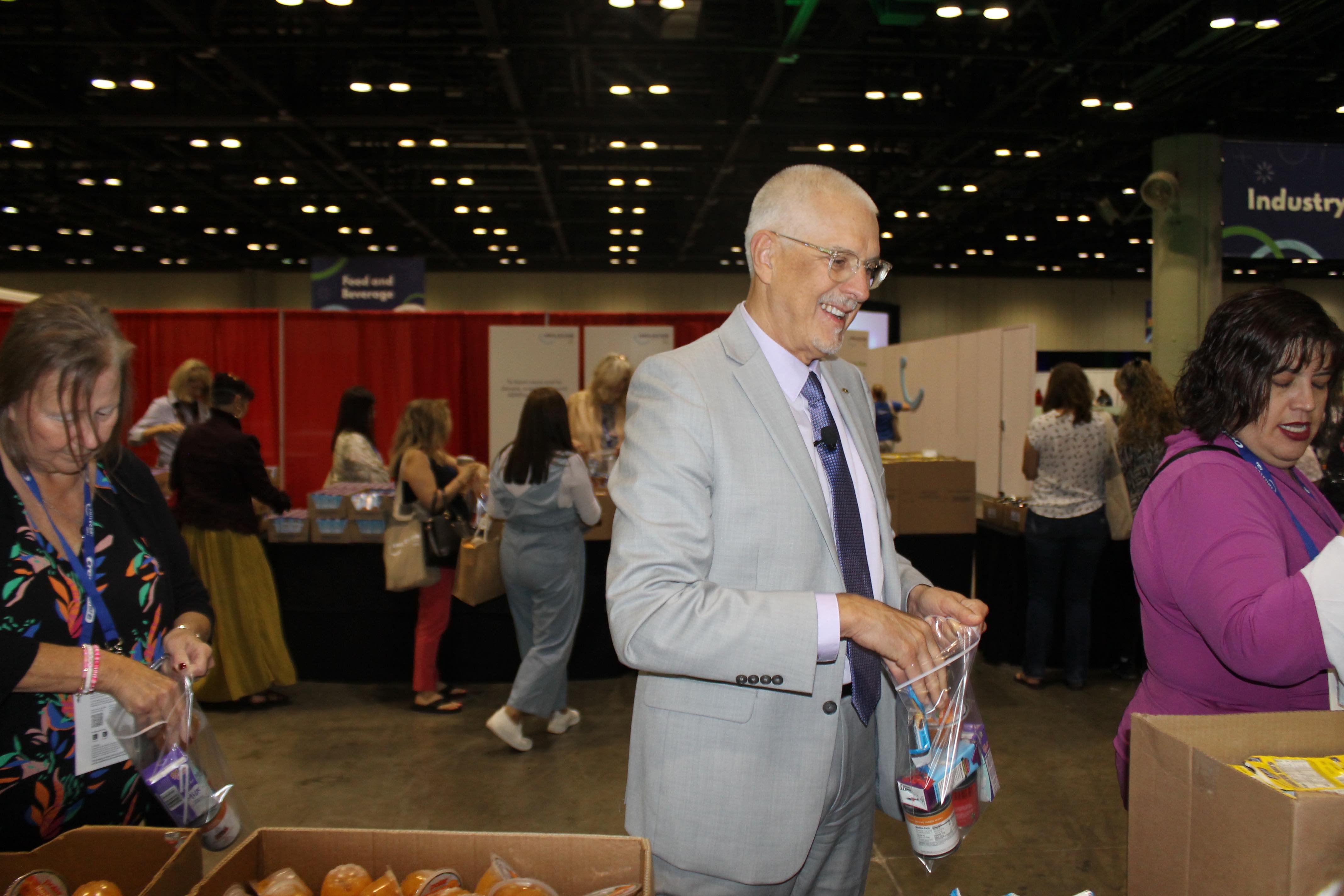 Orlando, Fla. — One-thousand children in central Orlando will enjoy nutritious food this weekend thanks to SmileCon.
The ADA Foundation Give Kids A Smile Pack & Give Back Event, held inside Dental Central at the Orange County Convention Center, invited SmileCon attendees to help assemble snack packs for 1,000 schoolchildren who eat federally assisted school meals during the week but often go hungry on the weekends.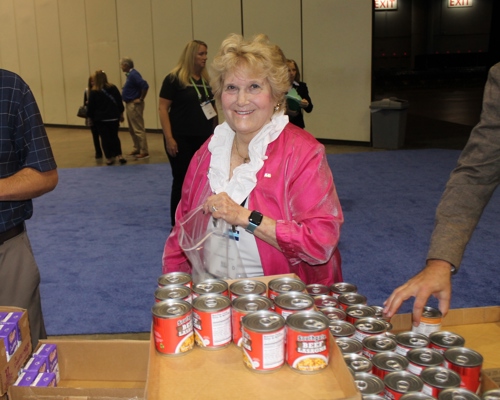 "It's important for the ADA to give back as we celebrate SmileCon 2023," said ADA President George R. Shepley, D.D.S., before he rolled up his sleeves to assemble  several snack packs himself. "I can't think of any better way than to help provide nutritious food combined with oral health products to children who don't have regular access to these items."
The ADA Foundation, Henry Schein Cares, Colgate Bright Smiles, Bright Futures, and the Dental Trade Alliance Foundation worked with the Second Harvest Food Bank of Central Florida in the food and oral health care philanthropic community event.
Dr. Shepley invited guests at the end of that morning's Opening Session to join him in the assembly line that greeted attendees as they walked out of the session hall.
Kelsey Bulnes, a member of the Alliance of the ADA  — a partner organization to the ADA that provides community oral health education, supports the well-being of the dental family, and engages in legislative advocacy for the welfare of the public and the dental profession — remarked how even though the event was scheduled for three-and-a-half hours, attendees were so active and engaged that all of the snack packs were assembled in less than 90 minutes.
She mentioned that she assembled 10 snack packs herself.
"A lot of people did that," she said.
W. Mark Donald, D.M.D., ADA speaker, got so involved in the event that he took it upon himself to organize stacks of snack packs into crates alongside several other ADA trustees.
He said he was blessed to have had the happy life he had, and he was also there to drive home the point that oral health is an integral part of overall health, with proper nutrition being part of that.
"Altruism is the core of what we do," Dr. Donald said.
Dentists weren't the only ones packing lunches. Families — including Anne Morrison, Alliance of the ADA president — joined in.
Banks Ransom, 13, and Case Cordray, 11, assembled snack packs alongside their mother Callie Cordray, an office manager from South Carolina, hours before they headed to the SmileCon after-hours event at Universal's Islands of Adventure.
Banks said he was there in part to "crush food illness," and his brother added, "You need nutrition."
Food donated and packed items included packaged pasta, cereal bars, shelf-stable milk, mandarin oranges, graham crackers, sunflower seeds and toasted oat cereal. Snack packsalso featured toothbrushes, toothpaste and oral health education material.
"We're all proud to be in the Sunshine State and perhaps bring about some brighter smiles while we're here," Dr. Shepley said.
The GKAS event coincided with the launch of 2024 Give Kids A Smile event registration this week. The deadline to request free GKAS product kits for 2024 is Nov. 15. The 2024 product recipient list will be posted on the GKAS website on Dec. 11, and product kits will be delivered to recipients by Jan. 22.
The GKAS program kicks off nationally Feb. 2. 
For questions, contact gkas@ada.org.