ADA Science & Research Institute to combine with Forsyth Institute
Goal of ADA Forsyth Institute is to improve patient care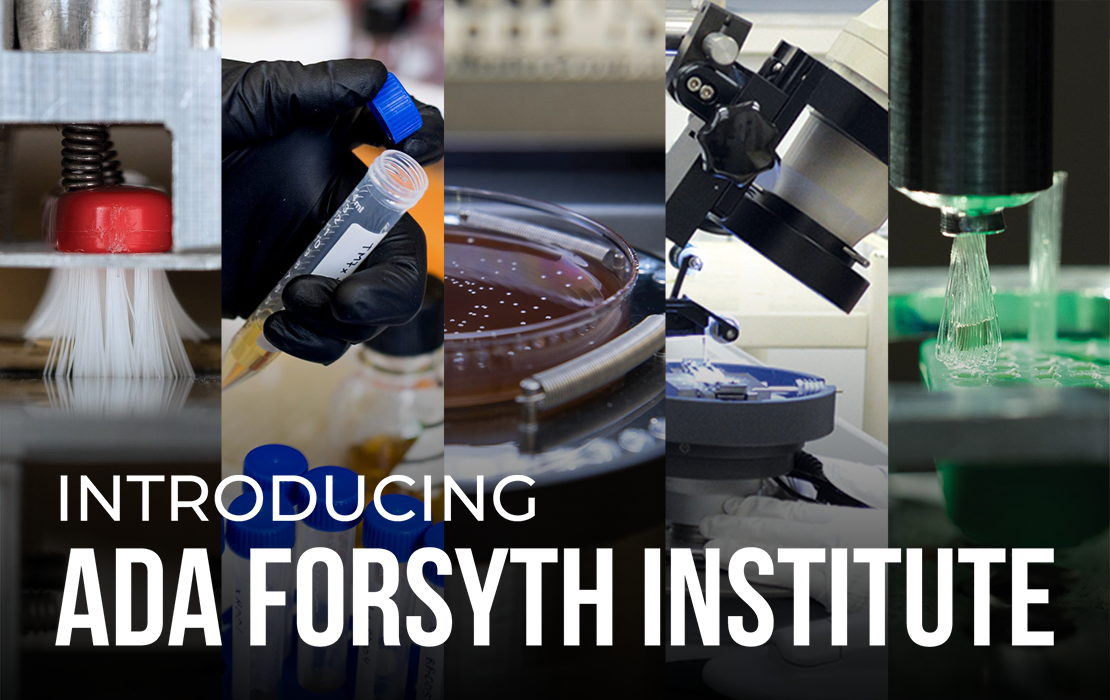 The ADA and the Forsyth Institute, a world leader in oral health research, announced Oct. 26 the formation of the ADA Forsyth Institute, which the organizations said brings together unparalleled talent, visionary research opportunities and dynamic innovation prospects dedicated to advancing oral health through scientific innovation and research.
"It will immediately change the landscape for oral health research and innovation," said Raymond A. Cohlmia, D.D.S., ADA executive director. "Oral health is integral to overall health, and this combination of mindshare will bring technology and health care advances to patients at a global scale. Together, we will improve lives through transformative research that starts in the lab and ends with improving patient care in the dental chair."
Dr. Cohlmia and Elyse Cherry. J.D., Forsyth Institute board chair, made the announcement at Forsyth's annual innovation conference, Forsyth Dentech, in Somerville, Massachusetts, which convenes thought leaders from government, research, industry, academia and venture capital to accelerate innovation and launch new ventures in the oral health space.
"The new institute will be a world-class leader in dentistry, defining the future of oral health through biological research, local and global public health outreach and technological innovation," said Wenyuan Shi, Ph.D., M.D., president and CEO of the Forsyth Institute. "The positive impact will be felt globally."
The work of the ADA Forsyth Institute begins immediately, with Dr. Shi leading the efforts from Boston.
"This is a historic and exciting day for champions of oral health," Ms. Cherry said. "We believe the ADA Forsyth Institute will accelerate the pace of scientific discovery and innovation for generations to come."
Founded in 1910, the Forsyth Institute began as a philanthropic effort to provide dental care to children in the Boston area and grew to become a leader in biomedical research.
Among Forsyth's many advancements include the development of the first local antibiotic to treat gum disease and the discovery of the bacteria that causes caries. It also provides oral health care through mobile, private practice and global programs.
Working in Chicago and the biotech hub of Gaithersburg, Maryland, the ADASRI has performed oral health studies that improve care, guide innovation and advance the success of dental professionals.
The ADA Forsyth Institute will be at the forefront of research while continuing the work ADASRI has led to date, such as the first complete mapping of every cell in the oral cavity, creation of evidence-based guidance to inform treatment of patients and ADA Seal of Acceptance program, maintaining the rigorous independent product evaluation criteria trusted by dental professionals and consumers alike.
"This is an incredible opportunity to advance the aligned missions of the ADA and Forsyth," said Linda Edgar, D.D.S., president of the ADA. "The Forsyth Institute has a long and storied history of scientific leadership and a dedication to making people healthier. Looking toward the future, we're excited to see the many ways the ADA Forsyth Institute will carry on that legacy."
"The new ADA Forsyth Institute will continue to advance oral and overall health through ground-breaking research and innovation," said Massachusetts Governor Maura Healey. "The Forsyth Institute has been, and will continue to be, an integral part of the Massachusetts bio-innovation and research community. This new venture will build on more than a century of excellent work right here in Massachusetts, including the discovery of how fluoride prevents cavities."