Day one of Dental Olympics stirs crowd at SmileCon
Four dental schools attempt to reign supreme in competitions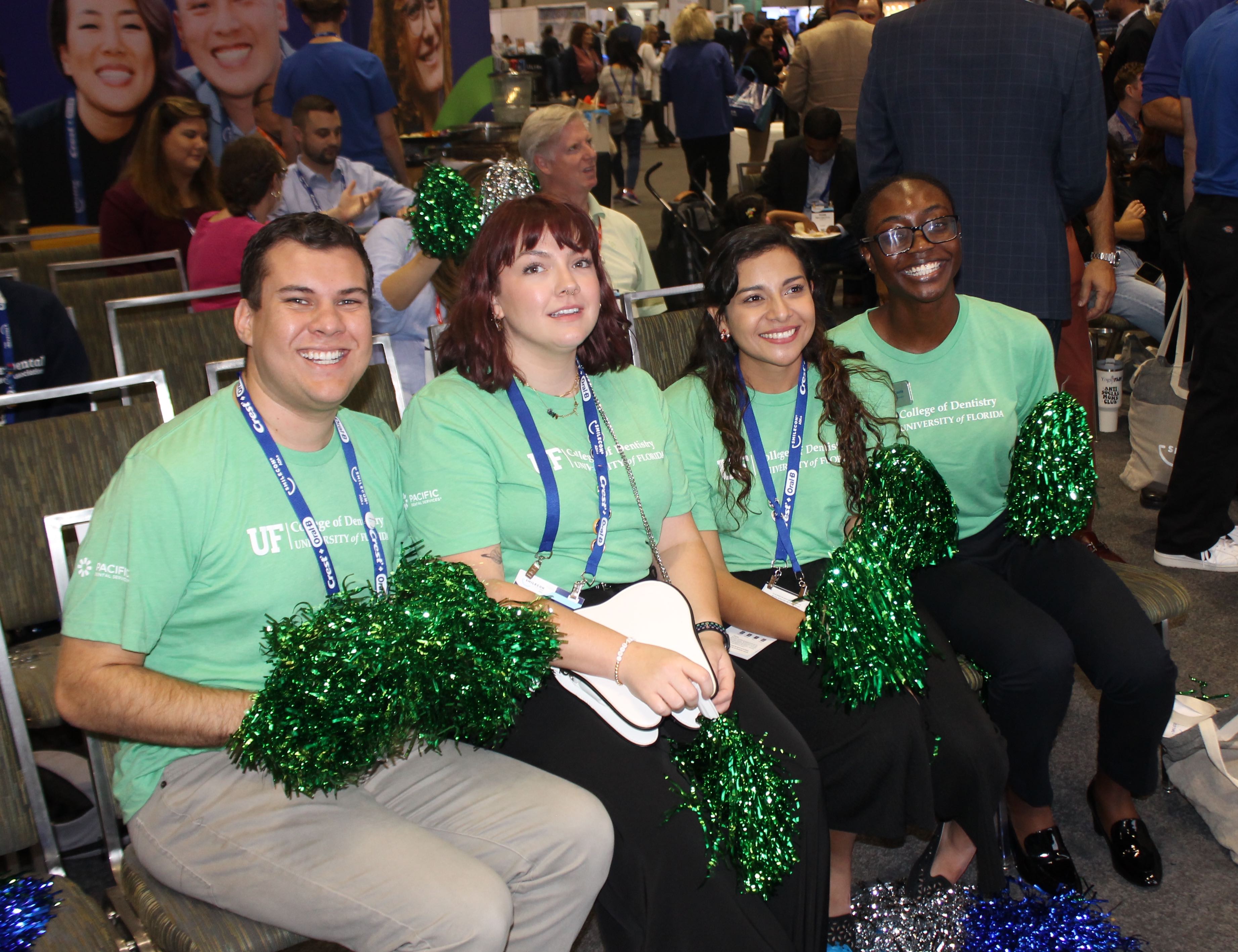 Day one is done. The final test is almost here.
Teams of dental students from the University of Florida College of Dentistry and the University of Puerto Rico School of Dental Medicine won their respective rounds of dental trivia Oct. 6 at the second annual Dental Olympics at SmileCon.
The two teams will battle it out for the Olympics title and bragging rights in Dental Central Oct. 7.
The other teams were from the Lake Erie College of Osteopathic Medicine School of Dental Medicine and Nova Southeastern University College of Dental Medicine, who both showed an impressive drive in the close head-to-head rounds.
The SmileCon Dental Olympics, which drew an remarkable crowd of onlookers that included proud alums waving pom-poms, are sponsored by Pacific Dental Services.
"I'm excited that Pacific Dental Services is once again sponsoring the Dental Olympics at SmileCon this year," said Gary Pickard, senior director of government and industry affairs for Pacific Dental Services. "It is an honor to support this incredible new concept, and I look forward to seeing it continue to grow, getting bigger every year with more dental schools and students participating. As they are the future of our industry, we need them to feel welcome and be engaged as soon and as much as possible."
With ArNelle Wright, D.M.D — a University of Florida alum herself and co-host of the ADA's Dental Sound Bites podcast — delivering opening remarks, Gabriel B. Holdwick, D.D.S., hosted the event for the second year, and he said the fun competition provides an introduction for many dental students to the ADA.
"Any opportunity to engage these students is worth it," he said.
Dr. Holdwick posed 14 questions to each four-member team in their respective rounds, as teams were given the opportunity to buzz in with their answers.
The subjects were geared toward clinical knowledge, including not just one but two questions about the Cusp of Carabelli. Others included:
• Periodontal ligaments.
• Required antibiotic premedication.
• Etiologic factors associated with periodontal disease.
• Transverse ridge formation.
• Smooth surface caries.
• Provisional restoration purposes.
• Proximal surfaces.
• Mandibular first molars.
• The second mesio-buccal canal of maxillary molars.
Diana Rodriguez, a second-year dental student from the University of Florida, reveled in her team's victory but admitted preparation for the Olympics was limited amid the hustle and bustle of dental school.
"We didn't have enough time to study with everything else going on," she said.
The Nova Southeastern team was disappointed but still buoyant; third-year student Amer Sbeih half-joked that more practice with buzzers probably would have helped.
But he and his team were enjoying for what many of them was their first exposure to the ADA. The Universal Islands of Adventure party they were invited to and attended, didn't hurt, either, they said.
The whole SmileCon experience was memorable, said Nova Southeastern third-year student John Russo.
"Of course, we had fun," he said. "It was a blast."
The final rounds of the Dental Olympics are set for the final day of SmileCon.
Cue the stirring sounds of NBC's famous Olympic anthem.