Diversifying dental schools
A look at changing demographics in dental education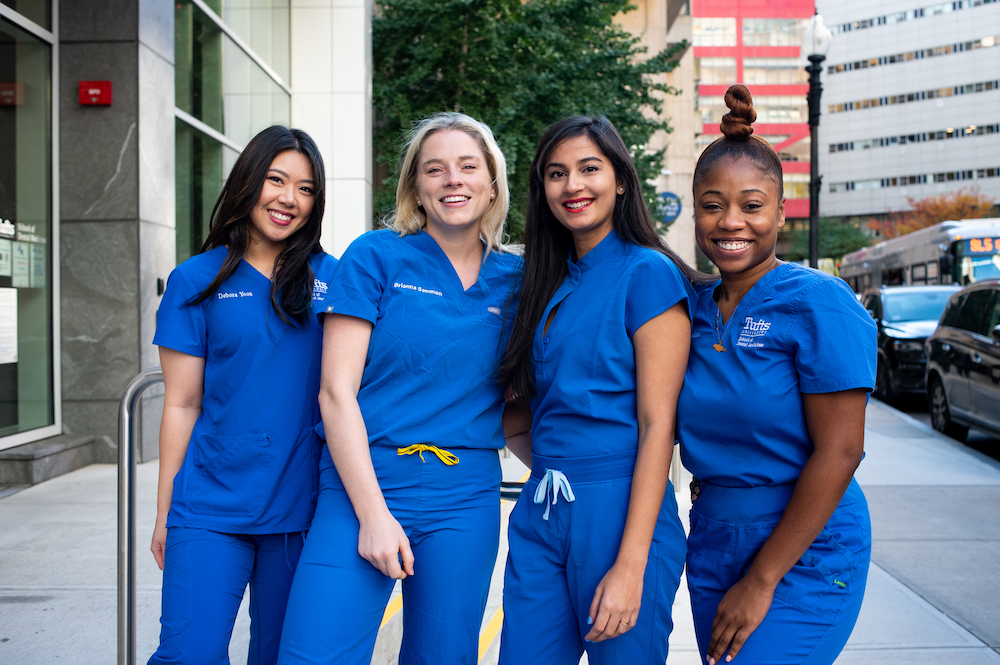 Dental schools are more diverse than they have ever been, but there is still work to do before the dental workforce reflects the diversity of the overall U.S. population.
The total share of female students enrolled in predoctoral dental education programs rose from 50.5% in 2018-19 to 55.5% in 2022-23, according to data reports from the ADA Health Policy Institute's Survey of Dental Education, administered on behalf of the Commission on Dental Accreditation. Similarly, the total share of students who are a racial/ethnic minority grew from 41.9% to 44.8% in that same timeframe, while the total share of white students dropped from 51.1% to 48.2%.
However, certain racial and ethnic groups have seen their representation increase more than others. While the share of first-year Asian and Hispanic dental students increased between 2005 and 2020, the share of Black students stayed roughly the same. The percentage of female enrollees in advanced programs also varies significantly by specialty.
Below are closer looks at Tufts University School of Dental Medicine and the University of Colorado School of Dental Medicine, which have made strides in diversifying their student bodies.
Tufts University School of Dental Medicine
Diamond Higgin is a fourth-year student who was inspired to pursue dentistry by her childhood dentist after facing oral health issues as a child that caused speech impairments and led to bullying by her peers.
"Her tenacity, support and guidance inspired me to explore a career in dentistry," Ms. Higgin said. "A career in dentistry has long been an interest in women and people of color. The path to dentistry has not always been available or inviting in the most literal sense, even with the best and brightest. Often without the appropriate voices, mentors and resources, the field can feel very unattainable. Also, real barriers exist when it comes to accessing any path to the medical profession as a person of color, be it costs, racial and systemic bias, entry fees, network, low-resourced colleges and even discouragement from trusted mentors and school advisers."
Between the 2009-10 and 2022-23 academic years, the total share of predoctoral female students at Tufts University School of Dental Medicine grew from 50.5% to 61.7%, according to data from HPI. The total share of Black students rose from 4.2% to 15.3%, while the total share of Hispanic students increased from 5.1% to 12%.
"As arguably the most diverse dental school in North America, Tufts University School of Dental Medicine has long been known for promoting a sense of community belonging in the 'Tufts family,'" said Jeanette Sabir-Holloway, D.D.S., assistant dean for diversity and inclusion. "As our student, faculty and staff populations have become more diverse, we aspire to feel welcoming, inclusive and supportive to all our students, staff and faculty."
Fostering diversity, equity and inclusion is part of the dental school curriculum. Students enroll in diversity and inclusion courses during the first three years of dental school and the first year of residency programs.
"Diversity and inclusion courses strengthen self-awareness, increase cultural awareness and assist students in building a foundational understanding of disparities in health care and the role of systemic racism in health care in the United States," Dr. Sabir-Holloway said.
The school is home to student organizations and affinity groups that host events throughout the year that highlight differences among groups and foster a deeper understanding and appreciation for those differences, she said.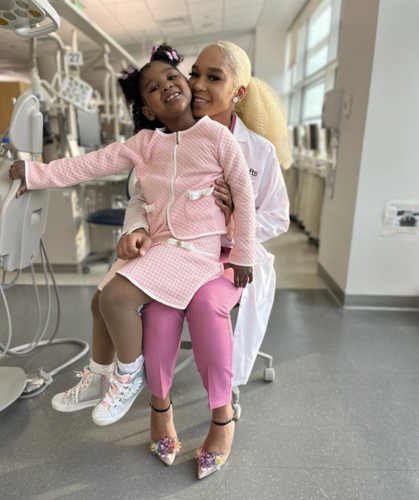 As a single mother, Ms. Higgin has faced challenges during her dental education, but she has built a community for herself by participating in the Student National Dental Association, American Student Dental Association and various other groups and events.
"My dental school fosters a great open-armed environment between students," she said. "Everyone is willing to help in the most rewarding 'each one, teach one, reach one' fashion."
Ms. Higgin strives to help other students like her by founding groups that support parents of color in their pursuit of careers as dental and medical professionals.
"Now, more than ever, several avenues to dentistry are being opened, allowing more of these demographics to join the field," she said. "I feel very fortunate to be pursuing dentistry in this era because I am walking in paths that so many before me have paved and privileged to stand on their shoulders."
Tufts University School of Dental Medicine also partners with Increasing Diversity in Dentistry, an organization that assists historically underrepresented racial and ethnic students in becoming better-prepared applicants for dental school.
"Pathway programs are key to enhancing the diversity of our applicants and potential admissions candidates," Dr. Sabir-Holloway said. "Students tell us they choose Tufts School of Dental Medicine because of the diverse student body and community service efforts and programs."
While Ms. Higgin has not yet solidified her next steps after she graduates from dental school, she knows mentorship, advocacy and service will continue to be the cornerstones of whichever career path she chooses.
"I aim to live a life that sets an example and blueprint that activates the potential of others," she said. "I will continue to serve, advocate and share my story of dedication, mentorship and community on every opportune platform. Tenacity, resiliency and brilliance without proper tools and resources are just that. Some of the rawest talent in the world has yet to be found because of the lack of opportunity.
"I am very proud of what my university has accomplished concerning diversity and inclusion. They are making ways for so many other universities and students alike. While there is certainly more work that needs to be done, I am excited to see what is accomplished next."
The mission of Tufts School of Dental Medicine is to prepare providers who can deliver equitable and compassionate care, Dr. Sabir-Holloway said. 
"At Tufts, we realize that patient-provider concordance increases access to compassionate oral health care," she said. "Tufts University School of Dental Medicine strives to equip all our graduates to be empathetic oral health care providers, able to address the oral health needs of all communities and populations."
University of Colorado School of Dental Medicine
Maria Gabriela Rodriguez Mantilla is a fourth-year student who serves as the student diversity officer of her class. The role has involved creating infographics to highlight cultural heritage months, planning a visit to a Latin American art museum, coordinating presenters for a campuswide Asian American and Pacific Islander Heritage Month event and speaking to students considering health care careers.
Students with roles like Ms. Rodriguez Mantilla help to encourage others from all backgrounds to pursue a dental education.
"The students are great partners in helping to recruit a student body that is underrepresented in dentistry and will positively impact communities across Colorado and beyond," said Denise Kassebaum, D.D.S., dean of the dental school. "Student diversity officers serve in the leadership of each student cohort. The breadth of our student clubs reflects the diversity of our students' interests."  
The University of Colorado School of Dental Medicine supports nearly 25 student organizations and hosts more than 100 events each year. Some of the organizations include the Student National Dental Association and Women's Dental Club.
"I feel that globally, there is a newer perspective on social norms where we can thrive in an equitable society," Ms. Rodriguez Mantilla said. "In our efforts to begin working toward that goal, our education systems and businesses have adapted slowly. Different organizations, like the Hispanic Dental Association or the National Dental Association, have made efforts in creating spaces for people like me. Once these spaces are created and are filled with other women of color or underrepresented minorities, they help propel vision, change and larger networking. I think this is how we are expanding the field slowly."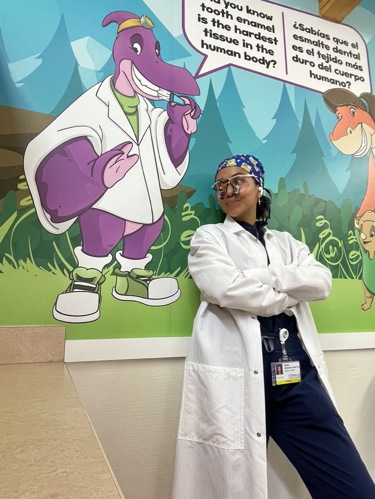 Ms. Rodriguez Mantilla is the president of the University of Colorado School of Dental Medicine chapter of the Student National Dental Association, which regularly hosts lunch and learns, volunteering opportunities, events celebrating different cultures, and tours of the school with panels, application workshops and mock interviews.
"This role has helped me make stronger connections with friends, faculty and staff that help contribute to the happy parts of my day at the University of Colorado School of Dental Medicine," she said.
The dental school's total share of predoctoral female students grew from 38.6% during the 2009-10 academic year to 57.4% in 2022-23, according to data from HPI. The total shares of Asian, Black and Hispanic students also increased during that time, from 8.4% to 14.1%, 1.5% to 5.3% and 5.4% to 11.6%, respectively.
"Over the last few decades, our faculty, staff and students have become more diverse, and our inclusive programming more intentional," Dr. Kassebaum said. "We identified diversity, equity, inclusion and belonging as an integrated value thread that runs through our mission areas of education, research, patient care and community engagement. The school's [Diversity, Equity, Inclusion and Belonging] Action Agenda is focused on promoting a schoolwide climate of respect, recruiting and retaining a workforce to advance the health of diverse communities, providing an educational experience where learners feel a sense of belonging and ensuring clinical care programs support person-centered care."
The dental school aims to ensure its admission processes are holistic while complying with federal law, said Elizabeth Ramos, D.D.S., assistant dean of academic achievement and equity.
"We are looking at our student experience in a more expansive way," Dr. Ramos said. "As society and systems change, we continue to evolve. We have amplified the scope of our Student Success Team. The team serves as a forum for the offices of academic affairs, student affairs, clinical affairs, and diversity and inclusion to collaborate and proactively identify ways to make structural and cultural changes that enhance the student experience at the school of dental medicine. While offices and committees within the school engage directly with individual student progress, this group reviews and makes recommendations to positively impact student experiences and support student well-being."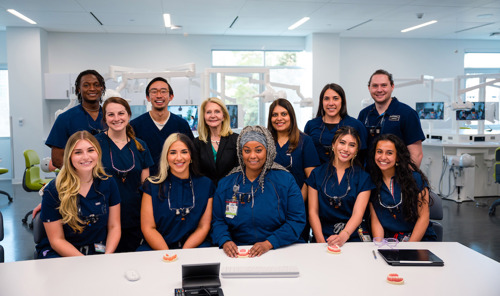 Ms. Rodriguez Mantilla said being able to turn to faculty members and mentors who have similar backgrounds to her has helped her on her dental school journey.
"The school of dental medicine has some shining star faculty and mentors that I have been able to relate to on a different level because we may have similar upbringings or societal norms. This has brought comfort during times when I have felt burnout and anxiety," she said. "I hope that spaces for underrepresented minorities continue to improve by amplifying mentoring and reinforcing belonging."
While Ms. Rodriguez Mantilla is unsure of her exact career path, she is leaning toward practicing at a community clinic, a choice influenced by her background.
"I feel that my personality, my family's experiences and learning about the social determinants of health have made me want to work at community clinics," she said. "My last rotation allowed me to see patients that I could speak to in Spanish all day and felt like I was treating my family. I put all my efforts and care into all my patients, and helping create a small change at the community clinic I was at made me so happy. While the future is uncertain, I'm hopeful and confident that there are many opportunities ahead of me."