Wellness tops conversation at ADA SmileCon Opening Session
'Self-awareness about being out of balance is helpful'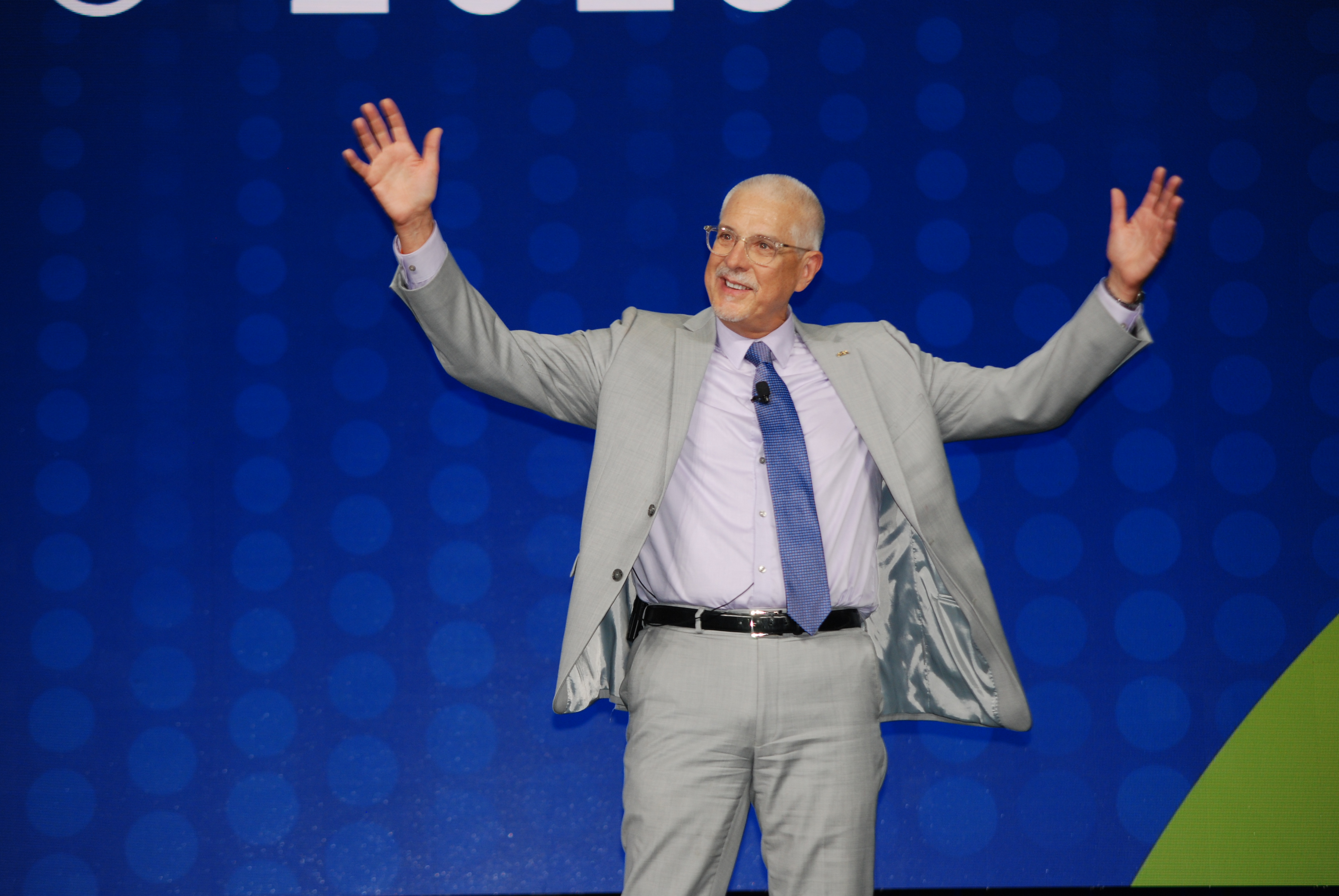 Orlando, Fla. — Balance. Wellness. Taking care of yourself.
These themes resonated resoundingly through the SmileCon Opening Session Oct. 5. Hundreds of attendees gathered at the start of the meeting to listen to ADA President George R. Shepley, D.D.S., outline the ADA's role in elevating the conversation and testimonials from member dentists on how taking care of yourself should be top of mind.
"Being a member helped me successfully navigate the challenges that many dentists face," Dr. Shepley said. "I learned the wonder of being able to count on the ADA as a place where someone would say, 'I understand, and I can help.'"
Stephanie R. Ganter, D.D.S., and Robert G. McNeill, D.D.S., M.D., hosts of the Between Two Teeth YouTube channel, emceed the event and also discussed the importance of taking care of one's mental health.
"A lot of things have changed in the world around us over the last several years too, with
COVID, the economy, mental health and trying to find that work/life balance," Dr. Ganter said. "We're all trying to become the best oral health providers we can be, but sometimes change can be a challenge. Self-awareness about being out of balance is helpful."
She described a trip she and Dr. McNeil took on their motorcycles through the Italian Alps for their YouTube channel.
"Taking time off for the motorcycle adventure also gave us a chance to support the ADA wellness initiative," Dr. McNeil said. "We're trying to lead by example and promote a culture of wellbeing for our fellow dentists, and let me tell you, taking some time off can really help you reset.
Orlando — Wellness is a top initiative for the ADA, which held a first-of-its-kind summit Sept. 8, bringing together scores of wellness stakeholders, including Council of Dental Practice and Dentist Wellness Advisory Committee members, ADA wellness ambassadors, wellness program directors and committee members of state and local associations, state executive directors and physicians, representing different perspectives of working together to promote wellness.
The Opening Session also featured a performance by cellist brothers Dariel and Emil Liakhovetski, who performed on a special "America's Got Talent: All Stars" best of the best competition. The brothers expressed their ultimate dream to transform peoples' lives as dentists someday, and judge Simon Cowell wasn't so nice.
Dr. Jeffrey Margolin, an ADA Life Member of 53 years, sent a letter to Mr. Cowell: "When you found out that both of these men were dental students your comments about the profession were less than kind. … We [devote] ourselves as a profession to alleviating pain and improving the quality of life for our patients. … I find your comments to these two gentlemen to be demeaning and totally uncalled for and an insult to the dental profession. …"
Once Dr. Shepley heard about Mr. Cowell's negative comments and Dr. Margolin's letter, he invited Dariel and Emil to perform at SmileCon.
"Now if you're anything like me, you take a lot of pride in our profession," Dr. Shepley said. "I didn't like hearing someone be so disrespectful of it, and I certainly didn't like seeing that unkindness directed at two of our own. And I was not alone! After that broadcast, our community came together and stood up in defense of Emil and Dariel's dreams to touch lives through dentistry. That's another thing I love about us: we're a community who has each other's backs."
The SmileCon Opening Session was sponsored by Pacific Dental Services.