ADA Health and Well-Being Summit convenes to prioritize mental health in profession
'The ripples of wellness go well beyond the walls of our practices'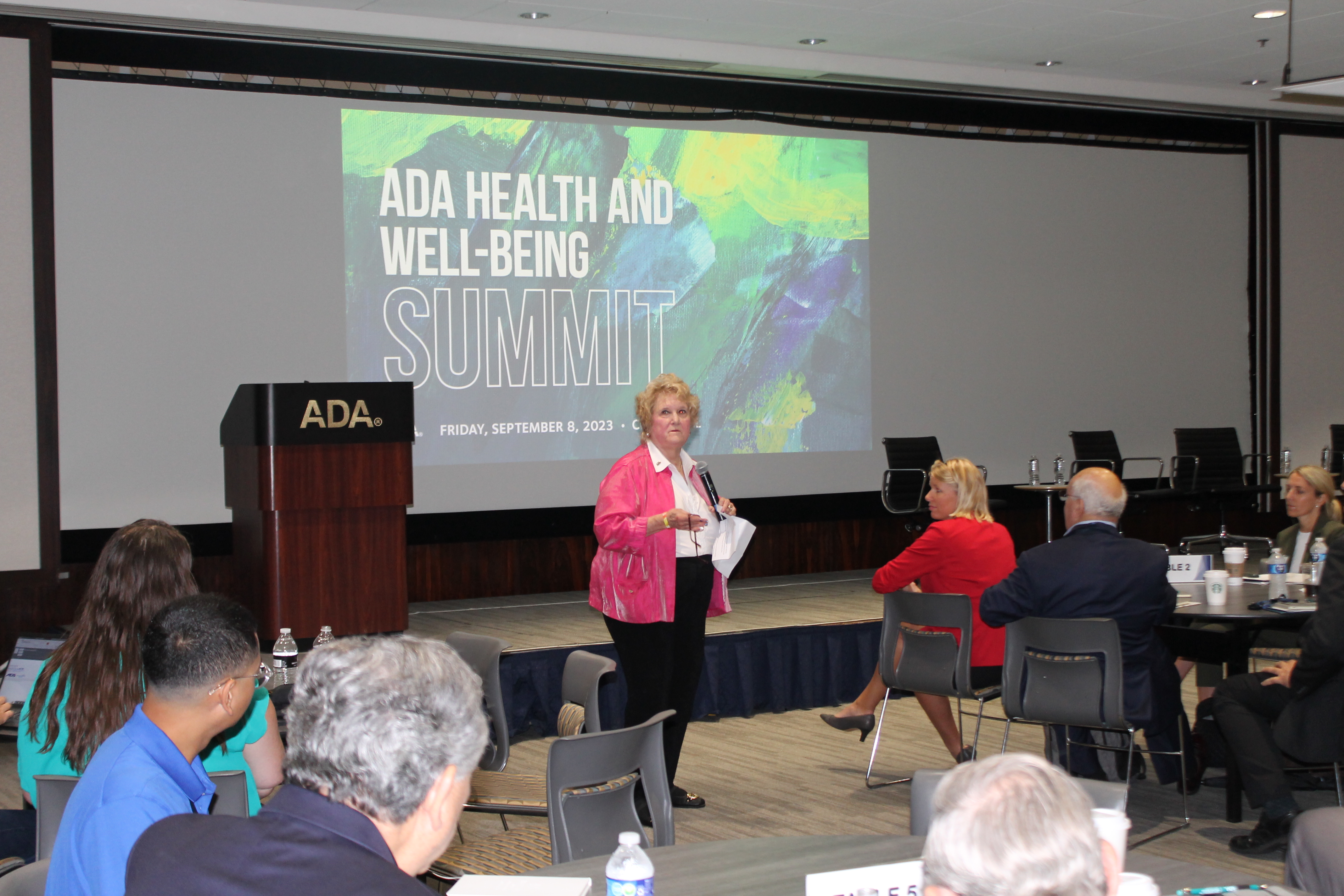 Karen Foster, D.D.S., a pediatric dentist and past president of the Colorado Dental Association, was excited about a half decade ago to have one of her co-residents reach out and say he was moving to Colorado. He asked if she had any opportunities in her practice.
"We worked out that he would associate in my practice each Wednesday," Dr. Foster said. "This was great, as it gave me the chance to work with one of my longtime friends. Unbeknownst to me, my friend and colleague was struggling."
After 18 months, her colleague and associate ended his life.
"I've learned a lot about being a survivor of suicide loss since that fateful day," she said. "I also never want anyone else to feel that pain."
Fast forward to 2023, and Dr. Foster is an ADA wellness ambassador.
At the ADA Health and Well-Being Summit, held Sept. 8 at ADA Headquarters in Chicago, she unveiled a new resource she developed over the past year, "After a Suicide: Postvention Toolkit," posted online at ADA.org/Postvention.
Dr. Foster, with input from the American Foundation for Suicide Prevention, created the toolkit, designed to be used as a resource to support those who are grieving the loss of a loved one, whether it be a dentist or team member, after suicide.
The toolkit provides guidance and tools for "postvention" — a term used to describe activities that help people cope with the emotional distress resulting from a suicide and prevent additional trauma and any potential for suicide contagion that could lead to further suicidal behavior and deaths, especially among people who may be at elevated risk for suicide.
Dr. Foster said she is inspired by a quote by Desmond Tutu, the late South African bishop and human rights activist: "There comes a point where we need to stop just pulling people out of the river. We need to go upstream and find out why they're falling in."
"This really resonated with me," she said.
Colleagues at the summit praised Dr. Foster's work, which was presented alongside other projects from her fellow wellness ambassadors.
"Although we hope no health care professional will ever need Dr. Foster's post-suicide toolkit, unfortunately it is not the reality," said Kami Dornfeld, D.D.S., chair of the ADA's Dentist Wellness Advisory Committee. "We are so grateful Dr. Foster was able to create a toolkit that will in some way lessen the burden for any provider or team member faced with a crisis situation such as suicide."
Manny Chopra, D.M.D., ADA Council on Dental Practice chair, said the ADA places significant emphasis on suicide awareness due to its fundamental role in safeguarding the mental health and overall well-being of dental professionals.
"This commitment ensures they receive the necessary support to excel in both their personal and professional capacities," he said. "Dr. Foster's personal insights have greatly enhanced our awareness of suicides within the dental profession. It is imperative that we disseminate this message widely."
The first-of-its-kind summit for the ADA brought together scores of wellness stakeholders, including Council of Dental Practice and Dentist Wellness Advisory Committee members, ADA wellness ambassadors, wellness program directors and committee members of state and local associations, state executive directors and physicians, representing different perspectives of working together to promote wellness.
Representatives from the Federation of State Physician Health Programs, Minnesota Board of Dentistry, North Carolina Caring Dental Professionals, American Medical Association, Federation of State Medical Boards, and The Joint Commission also attended and spoke in panels that shared success stories that could be replicated.
Another theme was the desire to work with regulatory bodies to destigmatize licensure and credentialing applications.
The multidisciplinary cohort embodied a sentiment that wellness ambassador Amisha Singh, D.D.S., said in her video presentation: "The ripples of wellness go well beyond the walls of our practices."
Linda Edgar, D.D.S., incoming ADA president, opened the summit, saying she has known two colleagues who died by suicide.
"The summit has been planned to help attendees connect, share and learn from each other, with the primary goal of advancing clinician health and well-being from the national platform of the American Dental Association," she told the crowd. "We should all remember that it is OK not to be OK and remind each other that caring for ourselves is the first step in providing the best care to our communities. I hope each of you leaves with an idea that you can take back to your organization that advances providers' health."
"This type of convening event enables the ADA to use its national leadership role to build a wellness table, where all stakeholders are welcome," Dr. Chopra said in his remarks. "As most of you know, September is Suicide Prevention Awareness Month, and we are all aware of tragic loss of colleagues, family, friends, and patients. In January 2023, the ADA Advisory Circle surveyed over 600 dentists and found that 46% of those surveyed personally knew of a dentist who has died by suicide."
Dr. Foster said she was grateful to have been selected as an ADA wellness ambassador to advance the cause.
"I believe once a wellness ambassador, always a wellness ambassador," she said. "I look forward to continuing to champion suicide prevention and connecting people to resources as they need them. Thank you to the ADA for prioritizing mental health in our profession."
For more ADA resources on health and wellbeing, visit ADA.org/wellness.
For those who may be struggling with thoughts of suicide, help is available 24/7 through the 988 Suicide & Crisis Lifeline by calling or texting 988 or through the Crisis Text Line. Text the word TALK to 741741 to text with a trained professional.